Are you looking for Things To Do In Sedona Arizona? Here is my complete list and insider tips for the best Sedona Vacation ever!
Good morning everyone! I hope you all had a fantastic weekend! Matt and I had a fun dinner on Friday night with some of our favorite friends!
We woke up on Saturday morning and decided to be spontaneous and go to Sedona. We have both been there several times however, it has been a while and we wanted to make a trip there to enjoy the colorful fall leaves and have some lunch while looking at the breathtaking scenery of Sedona!
Although we live in Arizona, we don't put enough effort to go to Sedona as often as we should! We get so busy with day to day life and business and if we have any time left, we travel to other cities/countries.
Sometimes we forget that there is an unbelievable place just an hour and a half north of our home. Every time we go to Sedona, we are totally stunned by the beauty of the towering red rocks everywhere we turn.
The best time to visit Sedona is from March to May when the temperatures are warm but not hot and the area is in full bloom. September to November is another ideal time for outdoor activities and to enjoy the beauty of fall.
Related Article: Travel Guide to Santa Monica California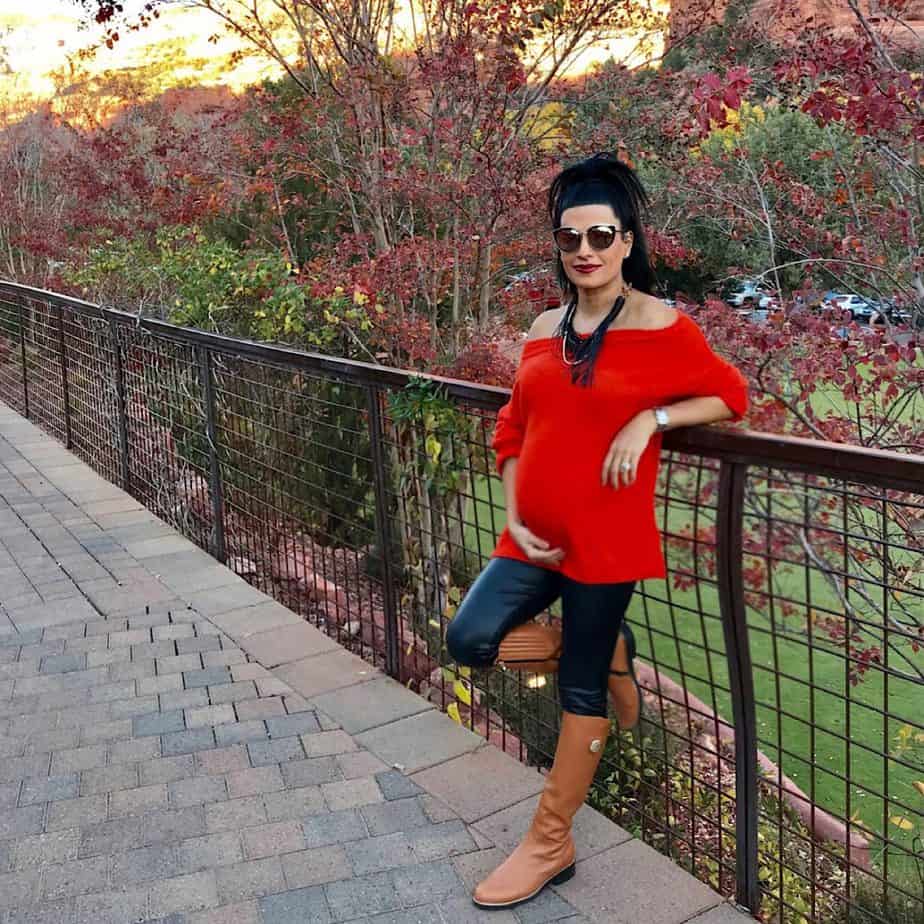 About Enchantment Resort
This weekend was a perfect time for us to visit Sedona! The leaves were absolutely gorgeous, and we couldn't ask for better weather. The changing leaves will make you believe you have been transported out of the Arizona desert (which I LOVE).
Every time we visit Sedona, we go to the charming town of Sedona where all the shops and art galleries are! But this time we went for a specific reason.
We heard about this really cool resort called "Enchantment" and decided to spend the day experiencing as much as we possibly could for one day.
As we were driving up to the resort, we could tell it's going to be gorgeous. The resort was literally surrounded by the signature red rocks of Sedona and it felt like you were transported into a giant spa! Everything about this place was magical!
The most relaxing music was playing in the lobby and the view from the restaurant and the lobby was absolutely breathtaking! We had a delicious lunch at the View at Che Ah Chi.
We started off with some very delicious chips and guacamole and refreshing drinks. I ordered grilled salmon and vegetables and it was so yummy. Matt ordered a grilled chicken sandwich that looked amazing.
After a great lunch we explored the rest of the resort. They had a beautiful round seating area on the outdoor patio with a center fire place viewing the red rocks. It was so cozy and a perfect place to relax and order a glass of wine with some appetizers and cheese board.
Of course, since I was pregnant, I couldn't drink any wine! I'm dreaming of going back to enjoy a glass of cabernet while sitting by the fire and staring at those gorgeous red rocks!
The resort displayed Thanksgiving spirit by decorating the grounds with the cutest pumpkins all over the grounds and all of the doors! I could even smell the cinnamon in the lobby! Can you blame me for not wanting to leave?
A big part of the appeal of the Enchantment Resort is its isolation. It's a nine mile drive from Sedona. If you want to drive into Sedona for a day's shopping or a nice dinner, you need to have a car. But the nice thing about this resort is you feel like you have your own private piece of Sedona all to yourself.
We loved everything about this resort and wished we were staying the entire weekend. Unfortunately, we were simply not prepared to stay the night.
There is no doubt we will definitely go back and stay a weekend at Enchantment resort. We were so excited about this hidden gem that I called our friend that we went out to dinner the night before and told them that we have to book a long weekend at this wonderful resort. Going there for only a day was certainly too short but well worth the trip!
Things to Do In Sedona
1. Enjoy a delicious Sunday brunch or lunch at one of the cute local restaurants/ cafes!
2. Explore the Sedona Arts Center.
3. Golf at one of Sedona's 18-hole courses.
4. Explore Dead Horse Ranch State Park.
5. Hike or bike the beautiful trails in Sedona.
6. Take a Trolley Tour.
7. Experience a Jeep Tour or ATV Tour.
8. Explore Red Rock Crossing.
9. Rent a scooter or electric bicycle.
10. Go Horseback Riding.
If you live in Arizona and want to visit Sedona for a weekend, Enchantment resort is absolutely beautiful and is so worth staying there for a weekend. If you are not living in Arizona but love to visit Sedona, I think you'll absolutely love it (especially the first time)! Hope you'll have a lovely time there and make great memories with your loved ones!
Love,
Sherry XOXO