Since we don't get the cooler fall temperatures in Scottsdale and Phoenix in fall (until November), Matt and I decided to take a little road trip with Valentina and Alina and spend the night in Northern Arizona (Sedona and Flagstaff). We wanted to enjoy the forest full of beautiful fall leaves and the "cooler temperatures". The fall leaves were absolutely breathtaking, and the girls had so much fun!
One of the things that I LOVE about transitioning to a new season is we also transition our wardrobes. As much as I love spring/summer colors and flowy dresses, I am so ready to bring out my fall/winter clothing in October. There are some winter fashion essentials that you should always have in your wardrobe. I decided to make a list of all the winter fashion essentials my wardrobe needs to get me through this winter, and I decided to share it with you!
1- Stylish Knitted Sweaters
There's nothing better to wrap up in a warm cozy sweater when it's cold outside! I love having oversized chunky knit sweaters in my wardrobe during the winter – the best part about them is how stylish they are while still making you feel like you're wrapped up in a warm blanket!
When it comes to oversized chunky knit sweaters, I love neutral colors because then there are more ways to style my outfit around them – but these winter essentials are all about what you love! There are so many different colors and styles of knitting available, you will always be able to find exactly what you love when you're shopping for this fashion essential!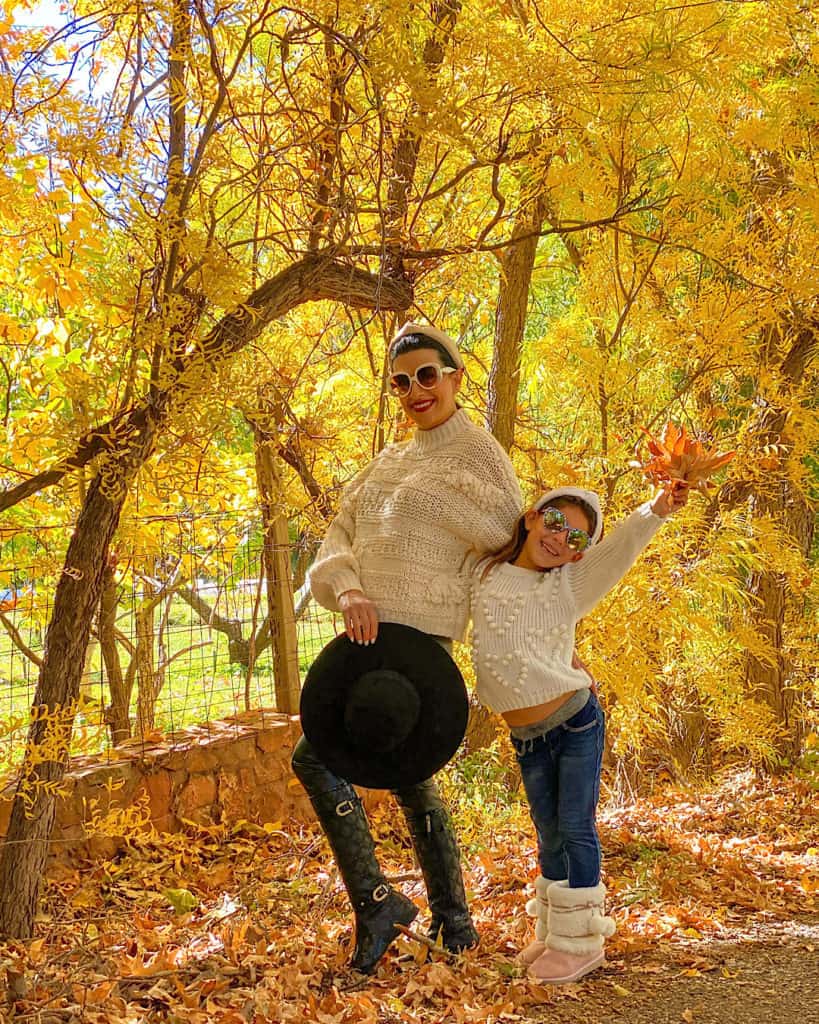 2- Ankle Boots
Ankle boots should be a staple in every woman's wardrobe because they are so incredibly versatile! You can wear ankle boots with leggings, jeans, skirts, and dresses! Whether you want to get a pair of colorful boots or go the more neutral route, you will find yourself turning to this great option more often than you might expect! Since there are so many different styles of ankle boots out there, you should look into having at least one more casual, everyday boot and one high heel boot for winter night outs!
For Casual Look…

For Evening Wear…

3- Knee-High Boots
Knee-High boots are another versatile staple that I love having in my winter wardrobe! Just like ankle boots, they can be worn with so many different outfits and types of weather. Knee-high boots are especially nice in the cold because they add an extra layer of protection to your legs while looking as fabulous as possible! With neutral colors of boots, there are countless shades of browns and whites that you can choose. You can also go with a classic knee height black boot (which I love!) or even a more stand out color that is the focus of your outfit. Either way, adding these to your closet will be the perfect way to add style and function during the winter!

4- Wool and Wool-Blend Coats

I absolutely love the look of a wool or wool-blend coat- they are chic, stylish, and perfect for every outfit! There are so many benefits of wearing wool during the winter. They are highly breathable, keep you dry and warm even when it is wet/raining. My favorite part about the wool coats is they are wrinkle resistant. High quality wool coats are so durable, warm and cozy! There are a lot of different patterns and styles of women's wool and wool-blend coats available, so choosing the one that matches your style will be super easy!
5- Beanies and Hats to Keep Warm During the Cold Winter Months
Winter hats are an absolutely adorable way to accessorize your outfits while making sure you are warm from head to toe when it's cold outside! Whether you want a neutral color that you can wear with anything or a collection of colorful hats to mix and match your outfits – there are so many cute warm winter hats out there! I love the look of a classic beanie with a fur pom pom, but there are also a lot of cute fur hats and plain beanies that will look amazing, too!

6- Fitted and Baggy Oversized Sweater Dress
Sweater dresses are perfect for dressing up during the winter! The material is incredibly comfortable and warm, and the look is a classic that is always in style! I love sweater dresses because you can wear an oversized look that is perfect for a cozy, casual day, or you can wear a fitted look that dresses your style up!
Oversized Sweater Dresses

Fitted Sweater Dresses

7- Turtlenecks for Warmth with a Pop of Color
Turtlenecks are an absolute must for a well-rounded winter wardrobe! They have been a popular choice for women's fashion for what seems like forever, and for good reason! They are incredibly stylish and totally functional for the cold weather. When you're considering what type of clothes you'll need for the winter, don't forget turtlenecks for warmth and a pop of color!

8- Stylish Gloves
Everybody knows that the cold can be miserable for your bare hands! Wearing gloves is an absolute must in order to protect your hands from the dry and cold air, but it doesn't need to look bad! I love leather gloves because they offer a chic look while keeping me warm and comfortable. I can only wear my leather gloves when I travel to cold cities like New York during the winter time! There is no need for gloves in Scottsdale or Phoenix during the winter months 🙂 hahaha

9- Scarves to Match Your Outfit
Keeping warm doesn't mean you need to sacrifice accessories! Scarves are woman's best friends in the winter because they are functional, and they are a versatile accessory that can be worn in different ways! Whether you hang the sides in the front or wrap them up to keep your neck warm, they are a great addition to every outfit! You can choose a chunky knit material or a thinner, more subtle look – either way they are something I look forward to every year!

10- Puffer Jacket or Coat
When it's really, really cold outside there are very few things that will keep you as warm as a puffer jacket or coat. Bundling up in the thick material of this outwear is incredibly cozy – and cute! There are so many great designer or none-designer puffer jackets that you can choose!

11- Thick Socks and Leggings
The best way to keep warm during the colder months is by ensuring our clothes are made from thick, comfortable material. I love wearing thick socks and leggings because they're cozy and cute! It's the best of both worlds!

12- Skinny Jeans
Skinny jeans are perfect for all seasons, so having a pair or two in your winter wardrobe is a given! I love to look of skinny jeans with ankle or knee-high boots, it's a classic that I don't think will ever be out of style! I like to get skinny jeans that are stretchy and comfortable so I can wear them all day while wrangling Valentina and Alina!! hahaha!

13- Black Tights
I love black because it can go with so many things, so having a pair of black tights in your winter wardrobe is essential for warmth that matches every outfit! When you want to wear a dress or a skirt when it is cold outside, black tights are the best thing to have in your closet!

14- Simple Flats and Sneakers
Every wardrobe needs a pair of simple flats and sneakers to be complete! Whether you are dressing up a pair of skinny jeans or having a casual day running around to the store in a pair of sneakers – you'll be happy to have more options for footwear this winter!

Essential Fall + Winter Kids Clothes to Stock Up On
Just like we do, kids need to have a closet full of fall and winter essential clothes and accessories! I love shopping for Valentina and Alina as much as I love shopping for myself! haha! Keeping our kiddos warm and cozy is important and finding cute and comfortable choices is always so much fun!




Have fun shopping this fall and holiday season for yourself and your family!
Love,
Sherry
Shop This Post or Similar
This post may contain affiliate links, which means that I may receive a commission (at NO cost to you) if you make a purchase using these links.










Sherry, xoxo