Looking for Things To Do In Barcelona Spain? Here is a list of all the must-see attractions, restaurants and bars in this gorgeous city.
Hello Everyone! Writing about my memories and experiences on each trip, makes me miss that place even more! I have been to Barcelona 4-5 times but I never get tired of going back to that city!
In fact, Matt and I always talk about where we would want to live if one day we move out of US, we both would love to live in Barcelona! (Although I love London just as much) Hahaha!
Barcelona is such a lively city, it is always packed with tourists from all over the world, has the most beautiful sunshine and surrounded by the Mediterranean Sea. It has many cool sites to see as well as the amazing Gaudi architecture and it is home of the FC Barcelona soccer team.
If you are a "foodie" person, you will LOVE this city! There are tons and tons of fresh seafood restaurants, amazing Tapas bars, delicious gelato and ice cream shops and juice bars all over the city!
Related Article: Travel Guide Mallorca Spain
How To Get To Barcelona
Since Barcelona is one of the big cities in Europe, there are so many flights from all over the world every day to Barcelona! No matter where your departure city is, you can always fly so easily to this city.
We flew from Mykonos directly to Barcelona. It was only a 2.5 hours flight! Matt and I were beyond excited to be back to Barcelona together again! As I said, it's one of our favorite cities in Europe!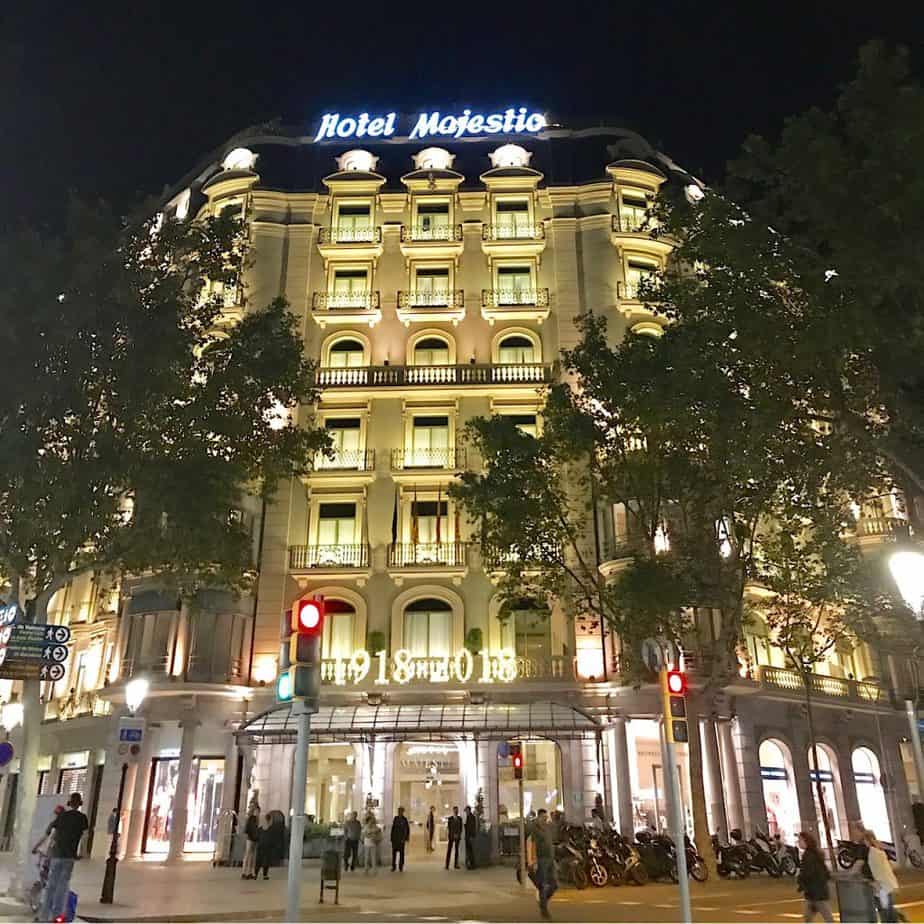 Majestic Hotel
We decided to stay at the Majestic Hotel this time! The biggest reason we chose this hotel was mainly location, location, location!!!!
Each time that we visited Barcelona in the past years, we stayed at different hotels. The very last time we stayed at the W Barcelona which was an absolutely beautiful ocean front hotel, but it was a little far from all the happenings in the city.
Since I love shopping (especially in Barcelona), I really wanted to stay in the middle of all the shops and restaurants and Majestic hotel was EXACTLY where I wanted to be!
Although Matt wanted to stay at the W hotel again so we could be close to the ocean, we both agreed on staying at the Majestic hotel where we could walk outside of the hotel and you could go from one store to another, or visit different restaurants, coffee shops and bars! We couldn't have been HAPPIER with our choice!
As soon as our taxi stopped at the hotel front door, they came and greeted us so kindly and off course helped us with our suitcases. The location of this hotel was absolutely incredible and their staff were so kind, friendly and polite!
We finally got into our room! The room was lovely and had a gorgeous city view! We sat on the cute balcony while enjoyed some fresh air and watched people shopping and dining on the street below our hotel!
After watching people for half an hour we decided to get some rest so we could go join the crowd!!! Hahaha! Since we had an early morning flight from Mykonos, we were a little tired!
We took a nice, warn shower and then a good two hour nap! Then we were all ready and excited to explore the city! I would totally recommend this hotel to anyone! It's so central, so beautiful and the service was so amazing!
Things To Do In Barcelona
Since Barcelona is big city, it has so much to do and so many places to visit! If you are trying to cover the whole city in 4 or 5 days, it's almost impossible!
The best way to maximize your time in Barcelona and visit as many cool places as possible, is by "Hop On- Hop Off" bus!
Not only you can see the major historical buildings, streets and famous parts of the city, but also you can hear about the history behind each of those places while sitting in the bus.
Although we have been to Barcelona several times, we still get the 1 or 2 day pass for "Hop On, Hop Off" bus so we can get off anywhere we want and explore that area. The list below are some of our favorite parts of Barcelona:
1- Casa Batlló: Casa Batlló is certainly one of the most famous of Gaudí's houses in Barcelona. I strongly recommend to visit here first thing in the morning when you are full of energy. It's absolutely gorgeous and you want to make sure you have time and energy to go to all parts of this house and listen to the history behind it! You will LOVE it! Even from the outside this property is stunning! You don't want to miss this place!
2- Casa Milá: Casa Mila is also known as La Pedrera, is a short walk from Casa Batlló, and is another of Gaudí's houses in Barcelona. The roof architecture is like something out of a dream and the view from the roof terrace is fantastic! You can book online or go early to avoid the super long line.
3- Sagrada Familia: I have seen several cathedrals, basilicas and churches but I've never seen one like this. Sagrada is truly impressive! Without a doubt is one of the loveliest masterpieces of Gaudi. You can spend 3 to 4 hours in there. Be sure to see the museum downstairs after touring inside. It's so much to learn.
4- Tibidabo Church: We got off our "Hop On- Hop Off" bus and had to walk almost 15-20 minutes to get there. This was our second time visiting Tibidabo! But couldn't resist not going there again! It's that nice! The view and the church are breathtaking and were totally worth the trip!! I totally recommend it!
5- Park Güell: is another of Gaudí's creations. The park is full of narrow twisting pathways which meander through the park. The park contains amazing stone structures, stunning tiling and fascinating buildings. It's absolutely beautiful! We loved it!
6- Las Ramblas: is a shopping street that is full of street entertainers, outdoor shops, coffee shops, flower shops and restaurants! There are also several charming fresh markets on this street (especially on weekends). We were warned of many pick pockets on this street but fortunately we did not experience anything of that nature.
7- Passeig de Gracia: Shopping along Barcelona's grand Passeig de Gràcia means being right in the heart of Barcelona. This is a beautiful street for walking while enjoying the architecture combined with numerous exclusive shops. Our hotel (Majestic) was located on this street. We truly enjoyed how we were in the middle of the city, next to all the shops and restaurants!
8- Camp Nou Stadium: It doesn't matter if you are a fan of soccer or not, if there is a game while you are staying in Barcelona, make sure you'll go! Camp Nou is worth a visit to experience the pride Catalans have for the FC Barcelona team. Matt and I missed the game by one day and we were so disappointed! On our last visit, we went to the game and to this day, we still talk about how fun that game was! We truly had a blast!
9- La Barceloneta Beach: In between all the cultural and artistic attractions Barcelona has to offer, it's easy to forget that the city is situated right along the gorgeous blue waters of the Mediterranean. On our last trip to Barcelona, we stayed at the "W" hotel. That gorgeous hotel was located on La Barceloneta beach so we got to enjoy the beach every day! This beach is NOT some white powdery sand beach, but we rented couple of sun lounges and umbrellas, ordered few bottle of bubbly Spanish Cavas, and some appetizers. We laid down under those umbrellas all day and had a fun time watching people playing on the beach, doing yoga, biking on the boardwalk or playing around with their kids and dogs! There are so many fun things to do along the boardwalk! This is a MUST go beach!
10- Magic Fountain of Montjuïc : We went to this place in the daytime and later at night when the Magic Fountains were at its best. We were lucky enough to see the Fountain when it was full glory, with light show and music. In the daytime we spend hours enjoying this area. Climb the stairs to the top! There are so many steps but it is so worth it when you get to the top! You'll get to see the beautiful view of the city!
Where To Eat & Drink In Barcelona
As I mentioned here, if you are a foodie person, you will LOVE Barcelona! This city offers so many fantastic restaurants, roof top bars, coffee shops, etc… Our favorite stops on this trip were:
1- Majestic Hotel Rooftop Bar: This rooftop bar was located at our hotel. The first day that we arrived to Barcelona, we decided to take it easy, we hung out at our hotel's rooftop for a little bit before heading out to dinner. We got a great seat viewing the city and ordered some appetizers and drinks while enjoying the sunset. The weather was absolutely beautiful and I can still remember that nice cool breeze up on the rooftop! We had a lovely evening!
2- Mimosa Garden at Mandarian Oriental: We were told Mimosa Garden is also a lovely place to hang out in the evening time. After a long day of exploring the city and some shopping, we decided to go to this bar at the Mandarian Oriental hotel. It was literally a 5 minute walk from our hotel. The location of this hotel was fantastic and the Mimosa Garden was so darn cute! It was a beautiful garden with lots of comfy, cute chairs on the patio. We ordered some yummy appetizers and Matt ordered his favorite Spanish cocktail! We loved their Patatas Bravas and the cheese plate! The Olives were to die for!
3- Cerveceria Catalana: There is no way that we go to Barcelona and won't make stop at Cerveceria Catalana! Hahaha! It's that good (at least to us)! Kevin (my brother in law) and Kereshmeh (my sister) discovered it for the first time 9-10 years ago and they told us about this place and every time we dream about Barcelona, we dream about Cerveceria Catalana's fresh tapas! We love to get the seats by the tapas bar so we can see all the choices! The tapas were so good that Matt and I couldn't even talk to each other while we were eating….hahahaha! I don't even know which tapas to recommend! They are ALL sooooo good! The location of the restaurant is amazing too! Its in the middle of the city and they have couple of branches in the city. The line gets super long, but if you get there early, it's not that bad! If you see the long line, just wait in the line…. it's so worth the wait! Definitely put this place on your list of your restaurants to visit in Barcelona! We LOVE it! This is not a "luxury" or fine dining restaurant, but the food is amazing!
4- Barvo 24 at W Hotel: This restaurant is located inside the W hotel. The ambiance was great, the service was fantastic and we enjoyed the food too. I have to say, it was not the best in town, but overall it was a great experience. Make sure to stop by at the rooftop after mid night to enjoy some fun music and cocktails!
5- Restaurant Etapes: If you love Paella, definitely check this place out! We found them on trip advisor and it was well worth the visit! It's located on Eixample area. It's a small family owned restaurant with only 10 or 12 tables. Matt and I love family owned restaurants and we truly enjoyed their lovely dishes! The paella was fantastic and the chef tasting menu is definitely recommended!
If you are planning to visit Barcelona, number one, I'm so jealous, hahaha!!! And number two, make sure to visit at least some of these places! Have fun and leave your experiences in Barcelona on the comment section below!
Sherry XOXO