Can't believe October is right around the corner!!! In this post I want to share how to create a Breakfast at Tiffany's costume. I'm SO excited that the Halloween month is FINALLY here! I wanted to create a fun little "Mommy and Me" costume! If you want to create this custom for yourself (without kids), in this post I will help you where to shop for each item!
This post is a guide on how to create a "Breakfast at Tiffany's Costume" for yourself or as a fun little "Mommy and Me Halloween Costume".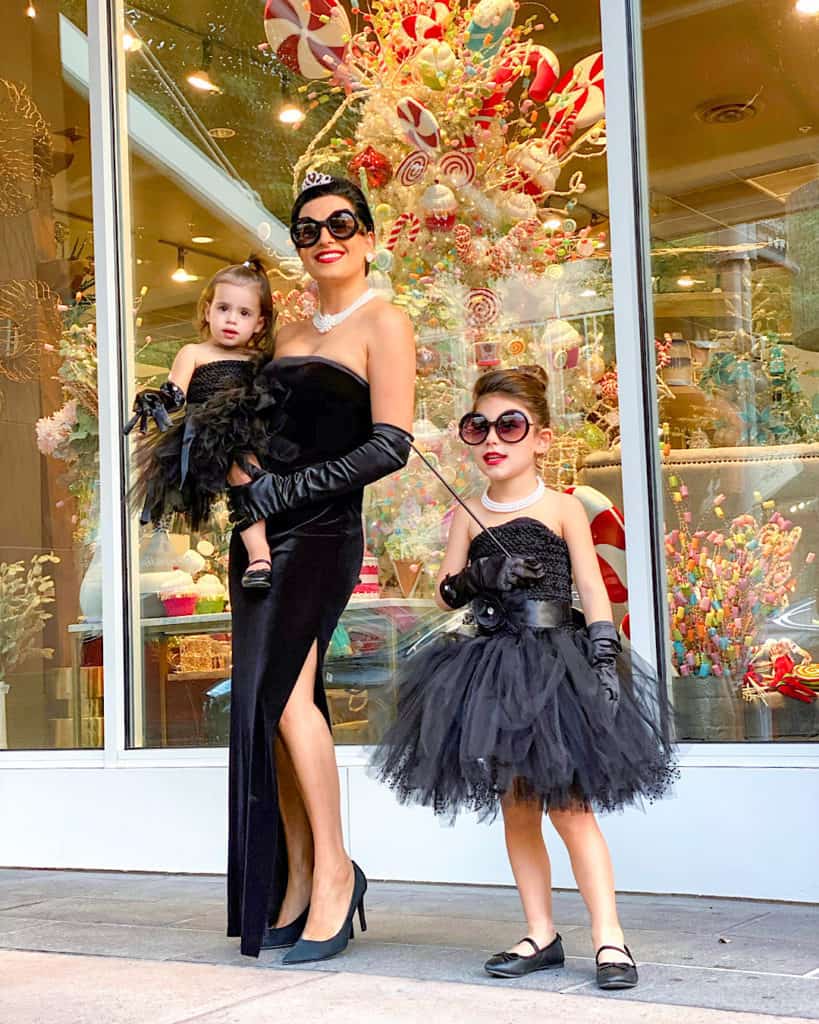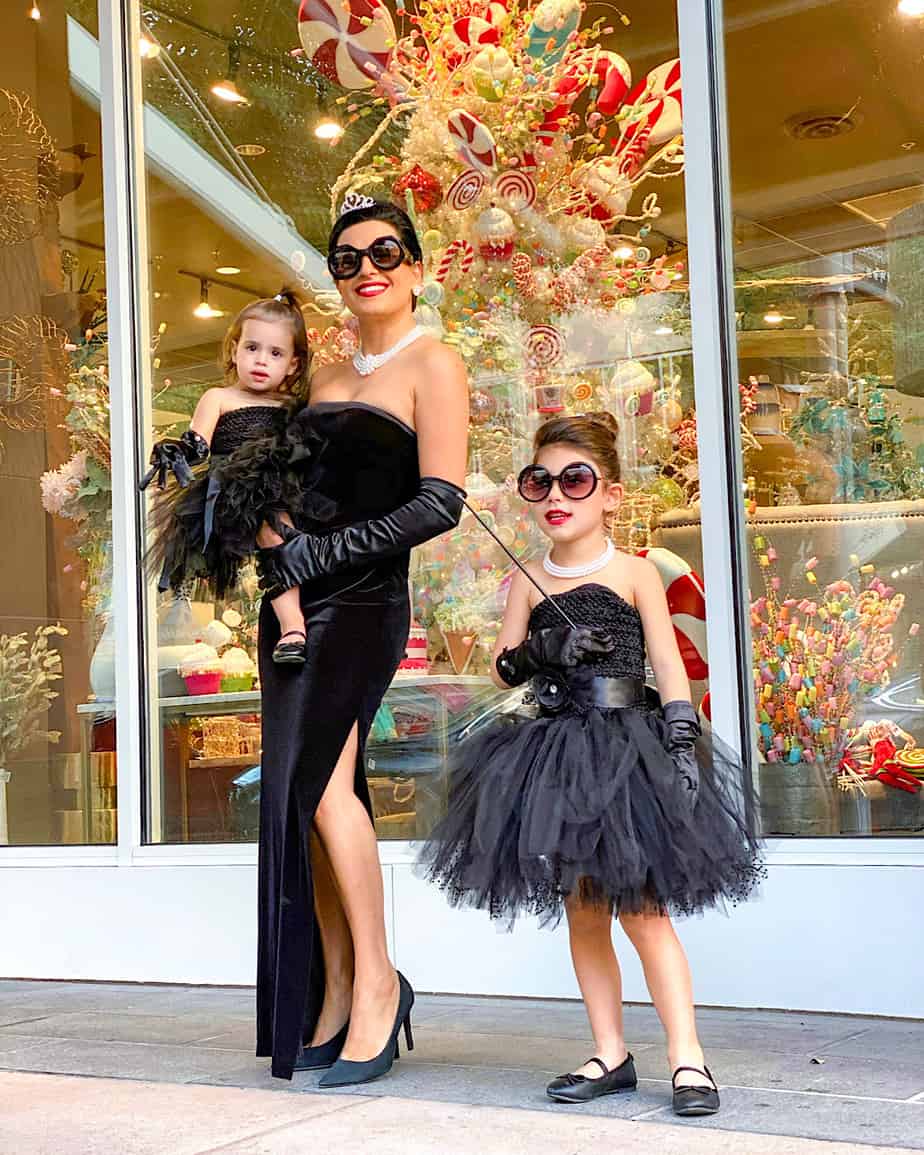 I have always thought Halloween was fun… However, after having kids, I really enjoy celebrating Halloween even more! Valentina and Alina (especially Valentina being an older sister), get SO excited about the Halloween costumes. Their excitement makes me want to start decorating our house and plan what our costumes will be from the end of September!
Related Post: Halloween Best Dessert Ideas
Halloween Costumes
This is our last year's "Mommy and Me" Iconic Audrey Hepburn- Breakfast at Tiffany's Halloween Costumes. I got several messages and DMs on Instagram last year asking where I got our matching customs! This is why I decided to create a quick post and share where I got our costumes.
There are many wonderful Halloween costumes out there! However, if you are a big fan of Audrey Hepburn and "breakfast at Tiffany's", you can recreate something similar for you or your family this year!
Related Post: Stylish Fall Decor Ideas for Fireplace Mantel and Living Room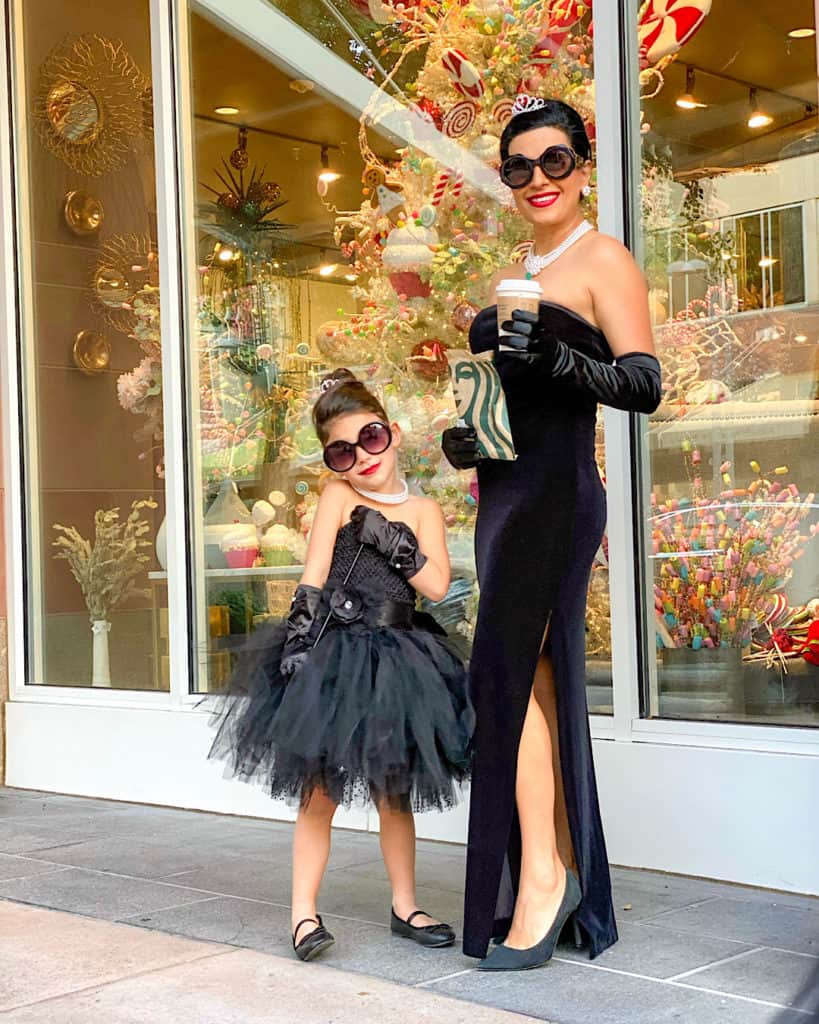 The Story Behind That "Iconic Black Dress"
I totally recommend reading this article in Vogue UK about the story behind that "little black dress" worn by Audrey Hepburn. It is such a beautiful story!
Breakfast at Tiffany's Costume
My "little black dress" in these pictures is a velvet dress that I have owned for many years! In fact, my aunt bought it for me when I was 18 years old, and it has been hanging in my closet since then! It is one of those dresses that is very special to me, and I will never be able to let it go or "donate"! Hahaha!
I thought it was a perfect look for the Audrey Hepburn, Breakfast at Tiffany's" costume. Here is where you can buy something similar or just a beautiful "Little Black Dress". You can always find something fun and not that pricey on Amazon, or you can get a designer little black dress if you wish!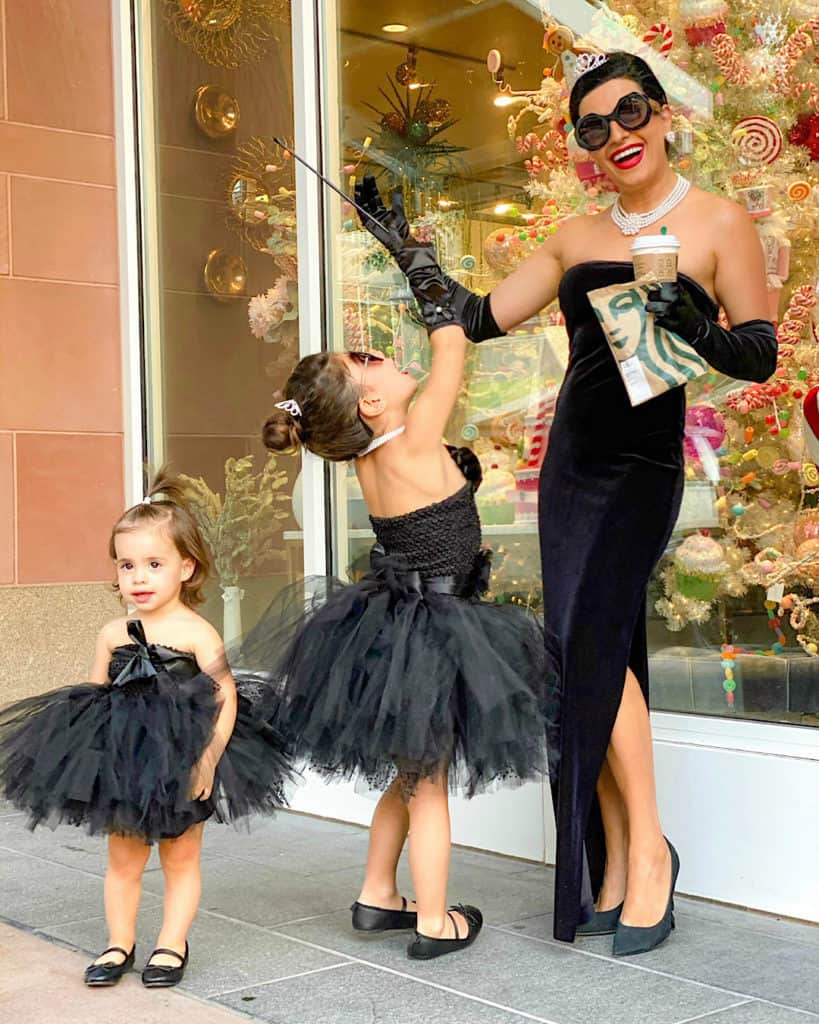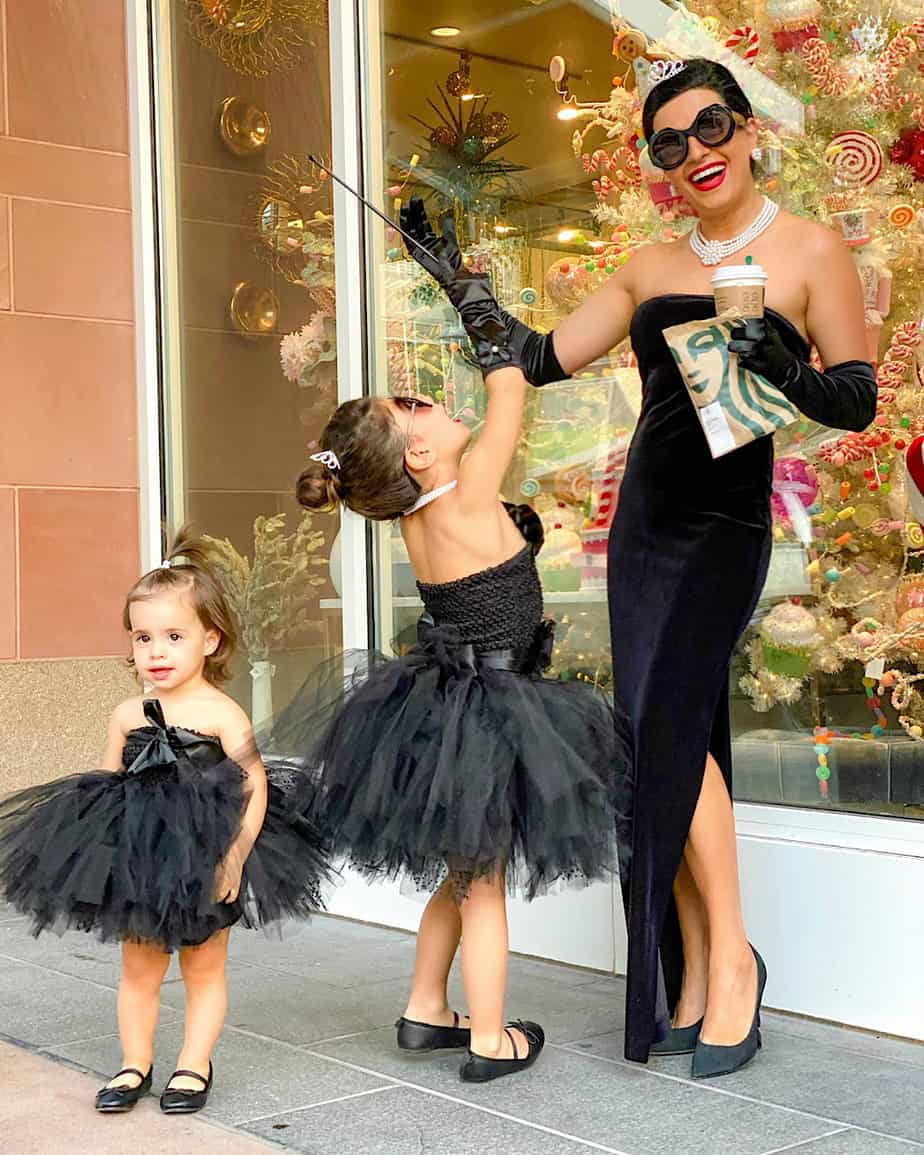 This post may contain affiliate links, which means that I may receive a commission (at NO cost to you), if you make a purchase using these links.

The Breakfast at Tiffany's Costume
This is a must-have for any fan of the Breakfast at Tiffany's movie. I think this costume is perfect for someone who wants to look like a classic Hollywood starlet, and it is SUPER easy to recreate!
How to Create a Costume for Your Daughter Based on Audrey Hepburn's Style
The key elements to consider when making this outfit are the black dress, pearl necklace and the red lipstick! That simple! While you can easily find that "little black dress" for your daughter/s, for some reason, I had a hard time finding the exact same black dress, in two different sizes for Valentina and Alina. I checked several kids online clothing stores, and I could not find what I was looking for! Therefore, when I found these cute black tutu costume with gloves on Amazon, I ordered them right away!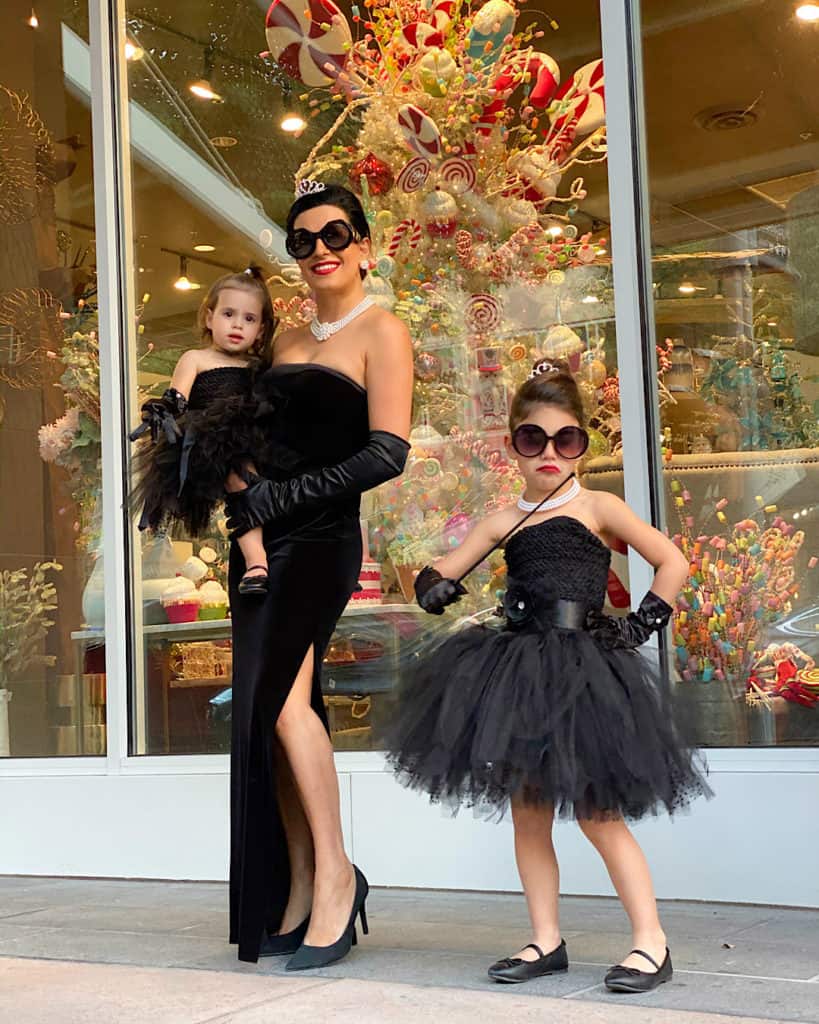 Here are some other choices for you to consider:


Ideas For Makeup & Hair Styles That Would Match Audrey Hepburn's Look
I tried my best to create the exact hairstyle of Audrey Hepburn's in the movie, but I was not able to! Hahaha! So, I decided to make a small little "Donut Bun" for myself and Valentina and put the "vintage" tiara hair pieces on our hair! You can also choose other headpieces, crowns and tiaras like this or this.

The makeup was super easy… I love this red lipstick by Mac. The shade is called "Dare You" (Cremesheen Lipstick). I applied some on myself and Valentina's lips! You can also use Chanel Le Rouge Duo Ultra Tenue lipstick (the shade is called "Sweet Berry"). This shade is so beautiful and gives you the same look of the "Dare You" lipstick by Mac. I also applied my favorite blush by NARS. The shade is called "Torrid" on our faces! I did not apply any makeup on Alina's face, since she was only 1.5 year old, and I did not want her to get any allergic reactions to the makeup!
You can also get some fun hair and makeup ideas for this look on Pinterest! I like this, this and this looks!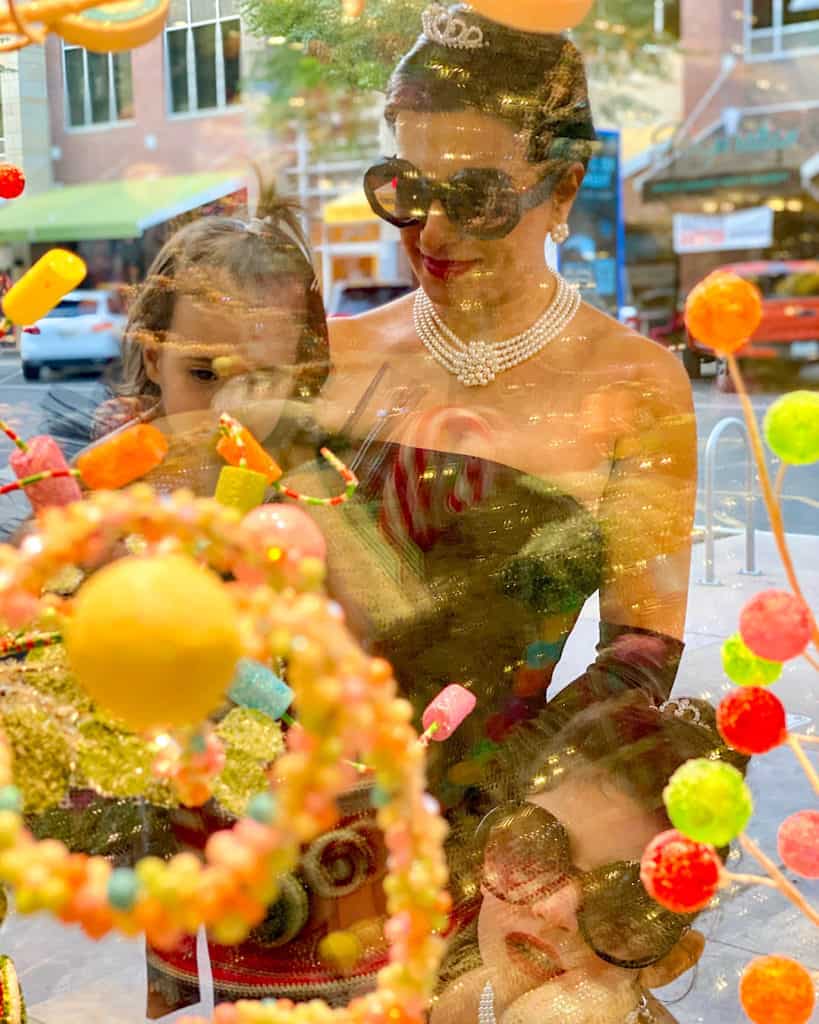 Audrey Hepburn's Long Black Satin Gloves
Accessories must have for this costume! You can pretty much find the gloves at any party stores (like Party City). I bought ours on Amazon! Here are some great options for you if you are looking to create any little Tiffany's costumes:

Audrey Hepburn's Pearl Necklace & Headpiece
Here are some cute Audrey Hepburn's accessories (pearl necklace and head piece) choices on Amazon…so you don't need to look elsewhere!

If you are considering creating the Audrey Hepburn, I hope this post was helpful and gave you some ideas of where to buy the items you need to recreate this look! I hope you have a fun day celebrating Halloween!
Happy Halloween!
Love,
Shop This Post or Similar
This post may contain affiliate links, which means that I may receive a commission (at NO cost to you) if you make a purchase using these links.




Sherry, xoxo