Shop This Post Or Similar

Happy Monday everyone! I hope you had a great and relaxing weekend! We did something SUPER FUN this weekend that we have not done for a very long time!!! BAKING with our little ones! We had SUCH a good time that I've pulled it all together for you so you can try these easy and simple baking recipes to try with your kids too!!
Last month I was chatting with one of my sweet girl friends from high school. Not only she is a really great cook, but she also knows how to design food and desserts to make them look like you are eating at some 5-star restaurant!!! Watching her cooking stories on her Instagram, makes my mouth water! Hahaha! She also eats and prepares very healthy foods! So whatever recipes she suggests, they are usually "healthy/ healthier".
While we were chatting about cooking and baking, she mentioned that she recently baked these incredible gluten free cupcakes (chocolate muffin & vanilla) that tasted amazing! She knows very well that I am not into cooking or baking! Hahaha! I only cook easy and healthy dishes for my family during the week and we eat out on weekends ("take outs" during pandemic).
Based on what she knows about me, she suggested that I would enjoy baking these cupcakes with Valentina and Alina (especially Valentina being a 5-year-old). She told me that I should buy these specific cupcakes mixes from Simple Mills found at Whole Foods. She suggested that I could make them into a fun weekend activity for Valentina & Alina. It was so nice to get a personal recommendation for these simple baking recipes to try with your kids!
I thought that sounded like a fantastic idea! I checked our local Whole Foods but, unfortunately, I was not able to find them! I was planning to order them online as soon as we got back from our trip to California.
Simple Baking Recipe Solutions for Busy Moms
When we got back from our trip, I was checking our mail one day I noticed a box was sent to us from my sweet friend! She surprised me with the nicest package!!! She sent me two boxes of these delicious cupcakes (chocolate and vanilla), organic vanilla extract, two sets of cupcake pans (one for Valentina and one for Alina), colorful cupcake papers/cup liners, and personalized cupcake toppers with each of their names, along with a beautiful card inside the package! I could not believe it! This beautiful surprise package simply blew my mind away!
Having these kinds of friends in your life make you realize how lucky you are and that there is always someone (beside your family) who can put a big smile on your face!! I love this quote on good friendship: "Sometimes the smallest things take up the most room in your heart".
How We Baked this Easy Cupcake Recipe
My friend shared some of her favorite, fun and easy summer desserts on her website and these cupcakes were included on her list! I also read the instructions on the box and it looked SUPER easy to bake! But I since it was going to be my first time baking these cupcakes and I wanted to make sure that I would not mess them up (LOL), I asked my sister (Kereshmeh) who is also an incredibly good cook to come and help bake the cupcakes with us! She made the baking process even more fun for Valentina! The instructions are SOOO simple!
3 Eggs | 1/3 Cup of Oil | 1/3 Cup Water | 1 TBSP Vanilla | Heat oven to 325 F
Whisk egg, oil, water and vanilla in a large bowl and mix, whisk until well blended!
Spoon batter evenly into 12 lightly greased or paper-lined muffin cups.
Bake 18-23 minutes or until center of cupcakes bounce back when pressed. If using paper liners, let cool completely before eating to prevent cupcakes from sticking to the paper. Cool completely before frosting.
You can add the frosting or simply design them with some berries on top! Valentina LOVES frosting! So, I decorated the cupcakes with frosting and berries which adds another level of fun for kids!
I have to say, the cupcakes turned out so delicious!!! What I loved the most about these cupcakes was they were not "too sweet". Some cupcakes are overly sweet and I don't like them!
As soon as we were done baking, Valentina and Alina started eating and enjoying the cupcakes!!! They loved them so much that if I would let them, they would have eaten all of them at once! LOL!
Simple Baking Recipes To Try With Your Kids
Since Valentina had a blast baking these delicious cupcakes this weekend, I decided to look online and come up with some other easy things to bake with kids for the next weekends! I am sure we will be making today's cupcakes again in the next few weeks. But here are some great ideas for our next weekend baking projects!
Summer Cake with Fruit & Cream
Banana Muffins
Carrot Cake
Small Batch Brownies
Peach Cake
Cinnamon Monkey Bread
Cinnamon Roll Cake
Blueberry Crumb Bars
What Age Should You Teach Your Child To Cook?
Toddlers may not be ready to "cook" but that does not mean they are not ready to have some fun in the kitchen! One of the biggest challenges for younger children is being able to "see" and "reach" the counter safely. Try to find good, sturdy stool that they can stand on (preferably one with rails to prevent falls). For us, just to avoid accidents, we try to place the stool in a safe area away from the stove, and we keep knives and other sharp objects completely out of reach!
Most 6-7 year olds have developed fine motor skills, so they can handle more detailed work, but they will definitely still need "food safety reminders". If your child is 3-6 you can still "involve" them in some fun cooking or baking activities in the kitchen with you! We also ask our little 5-year-old Valentina to help us set the table sometimes. We do not let her handle the breakable items, but we want her to feel "involved" with some house chores!
That's why I think this is such a great idea – start off with these simple baking recipes to try with your kids!!
Although cooking is not one of my favorite hobbies in the world, but I strongly believe that the best way to teach kids about eating right is to get them into the kitchen and let them "participate" in preparing healthy meals with you! Before the pandemic, I used to take Valentina to the grocery store with me and I would ask her to pick "healthy foods for our house".
Although going to the grocery store with toddlers can be challenging sometimes, I think it is a great way to teach them how to make better food choices for their body!
I also think cooking is a valuable life skill that teaches children practical skills. It encourages children to work with others to produce the "final result" and it helps them to boost their self-confidence.
Life Skills Kids Learn When They Bake and Cook
It teaches kids about planning and patience.
Working in the kitchen provides kids and teens opportunities to gain a sense of accomplishment.
It introduces concepts related to science and math.
It is a great way to learn about nutrition.
It reinforces important lessons about staying safe.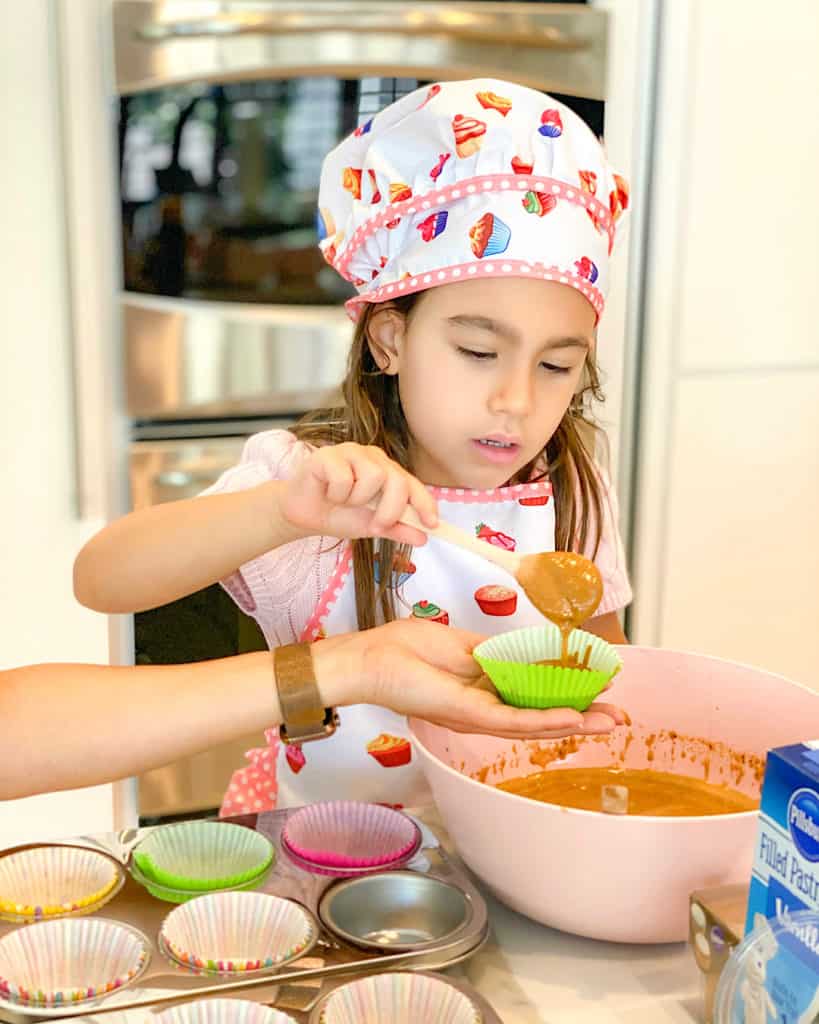 No matter if your family likes or dislikes the "teamwork" in the kitchen, I think occasionally involving your children in cooking and baking can certainly teach them great life skills and life lessons! The other thing that I believe that is SO IMPORTANT is to eat together as a "family"! It is always a good idea to turn the TV off, put your phones away and set a "mealtime" to eat "As A Family"! This was huge part of my culture which I absolutely loved! We ate at least one meal a day together as a family! This is something I noticed a lot of families do not practice in United States! I think preparing meals, cooking, baking and simply eating together brings the family so much closer together. It just couldn't be easier with these super simple baking recipes to try with your kids!!
Happy cooking and baking everyone!
PS If baking isn't really your thing, don't miss my post on fun weekend activities to do with your kids! No there's no excuse hahah!!
This post may contain affiliate links, which means that I may receive a commission if you make a purchase using these links.
Shop This Post Or Similar

Sherry, xoxo