Hi friends! Today in this post, I like to share some tips on how to accessorize a yellow dress. If you have been following me along for a while, then you know that dresses are one of my all-time favorite outfit ideas, especially when it comes down to summertime. Yellow is a gorgeous color to wear during the summer! This is why I like to share a post with you and going over what to wear with yellow dresses.
This post is all about how to accessorize a yellow dress!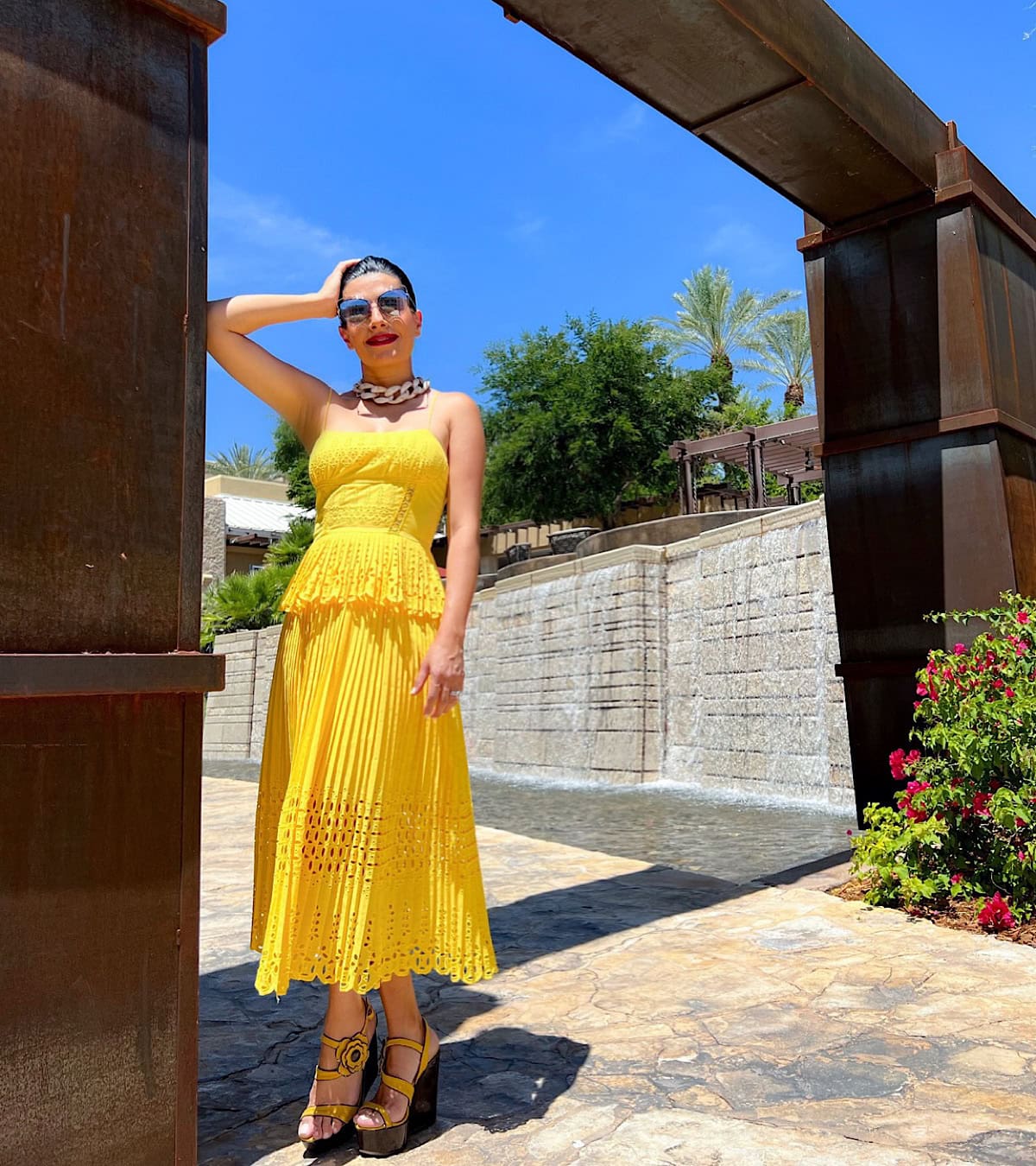 This post may contain affiliate links, which means that I may receive a commission if you make a purchase using these links.
What Colors Go With Yellow Clothes
Starting off, let's take a look at some of the best colors that go with yellow clothes. Green, white, black, purple, gray, and brown goes great with yellow clothes. Whether you're looking to wear yellow cocktail dresses, bright yellow dresses, or fashionable yellow dresses: short or long, these colors will look best with yellow.
Yellow and white go perfectly together, just like yellow and black do too. Since yellow is such a bright and loud color, sometimes it's best to pair it with white or black to tone it down and let your yellow dress be the center of attention.
Yellow and black dresses and yellow and white dresses are a great combination. If you're looking to add even more color to your outfit then staying in any of your beautiful yellow dresses with green or red will be perfect. Adding in a green jacket, skirt, or red heels will make your outfit and yellow dress pop.
Related Post: How to Accessorize a White Dress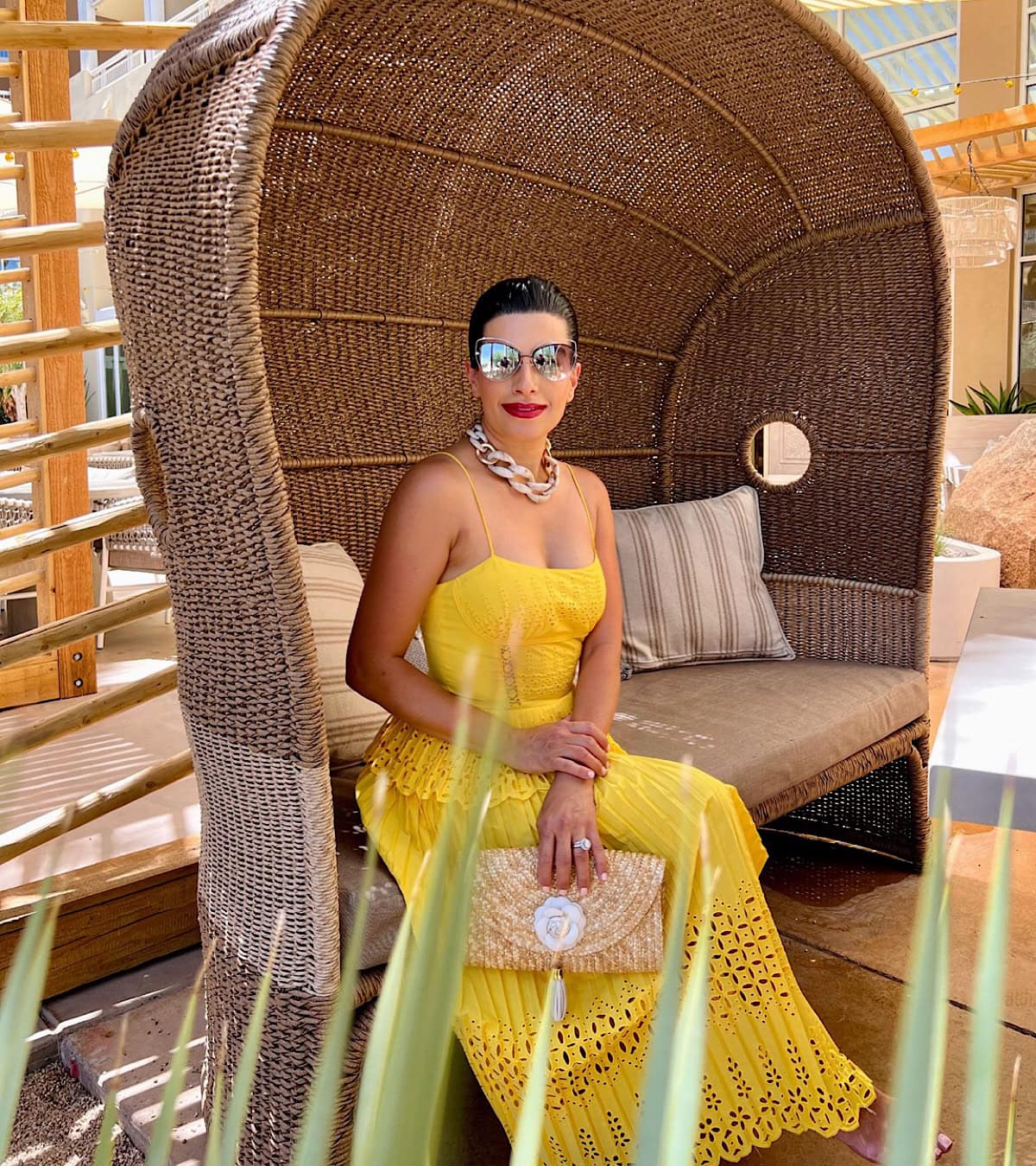 How To Style A Yellow Dress
There are a lot of things that go into styling dresses and outfits. Accessorizing is a great way to take your yellow dress to the next level. Yellow is one of my favorite colors for the summertime, but it definitely can seem a little difficult to figure out what to accessorize it with (especially mustard yellow).
I'm going to go over what to wear with a mustard yellow dress, how to accessorize a mustard yellow dress, and how to accessorize and what to wear with bright yellow dresses. No matter which style of dress you have some accessories will pair perfectly with them.
You can accessorize a yellow or mustard yellow dress using jewelry, belts, handbags, shoes, nails, and makeup. Let's look at my favorite types of accessories and how I would use them to pair with fashionable yellow dresses: short or long.

Related Post: What to Wear with Polka Dot Dress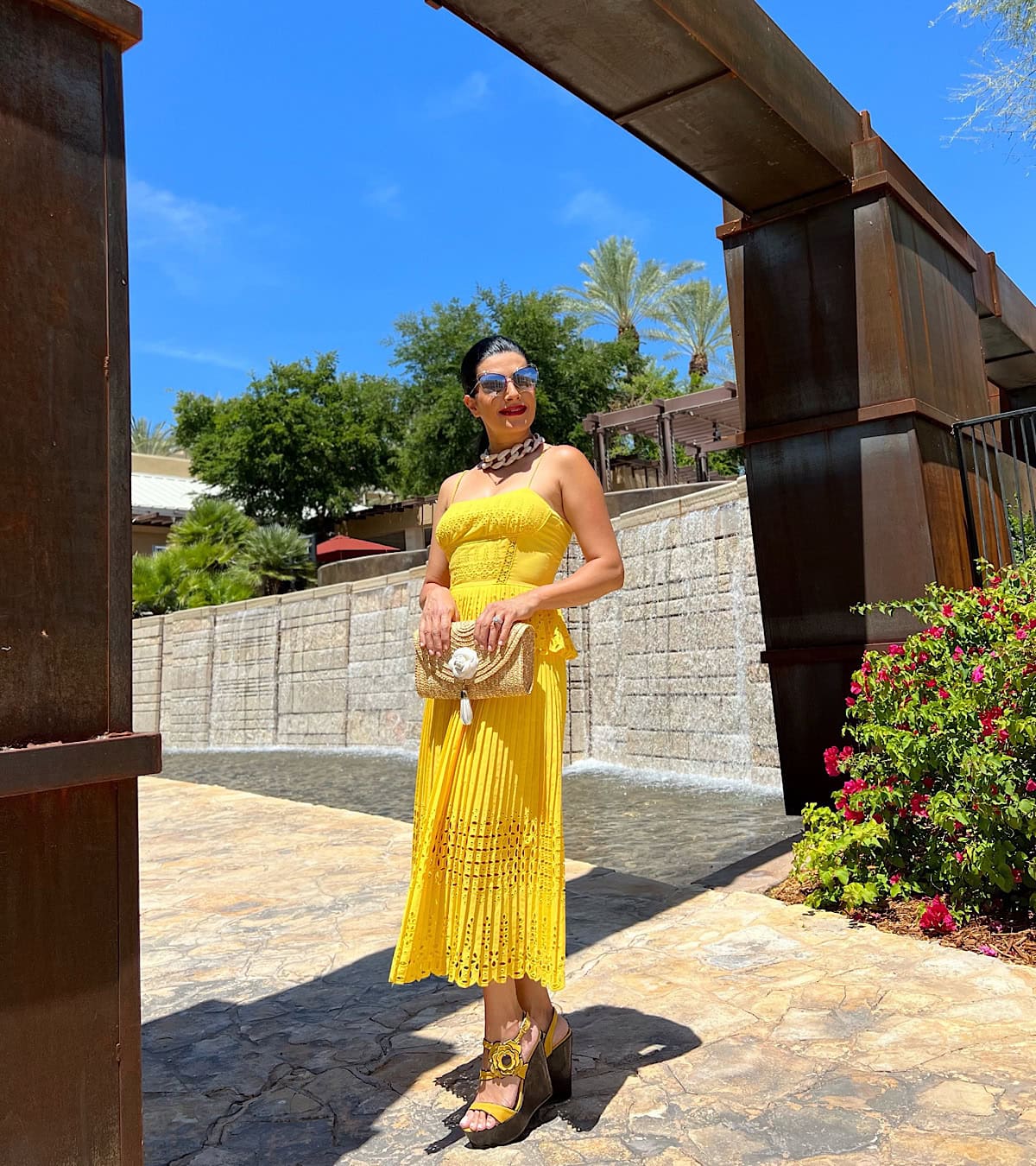 Shoes: What Color Shoes Goes With Yellow Dress
Shoes are one of the main things that you can wear with your yellow dresses. When it comes to shoes there are two ways that you can take them which are a neutral style and a bright colored style.
In this picture, I am wearing my favorite "yellow and brown wedge", designed by one of my favorite Italian designers. However, when it comes to bright yellow dresses and mustard yellow dresses, I also love to wear white or off white shoes, simply because yellow and white go perfectly together.

Black sandals are a great option for a casual dress, especially if you are looking to pair them with other black-colored accessories. I also feel like you can literally never go wrong with a nude shoe because it brings all the attention to your outfit, which in this case is your yellow dress.
If you want to add a pop of color to accompany your yellow dress, then opting for a purple or green shoe will look great. Pops of color on the shoes are always great especially if you're looking to have a full bright outfit. You can also go with yellow shoes if you wish!

Related Post: 9 Absolute Summer Wardrobe Essentials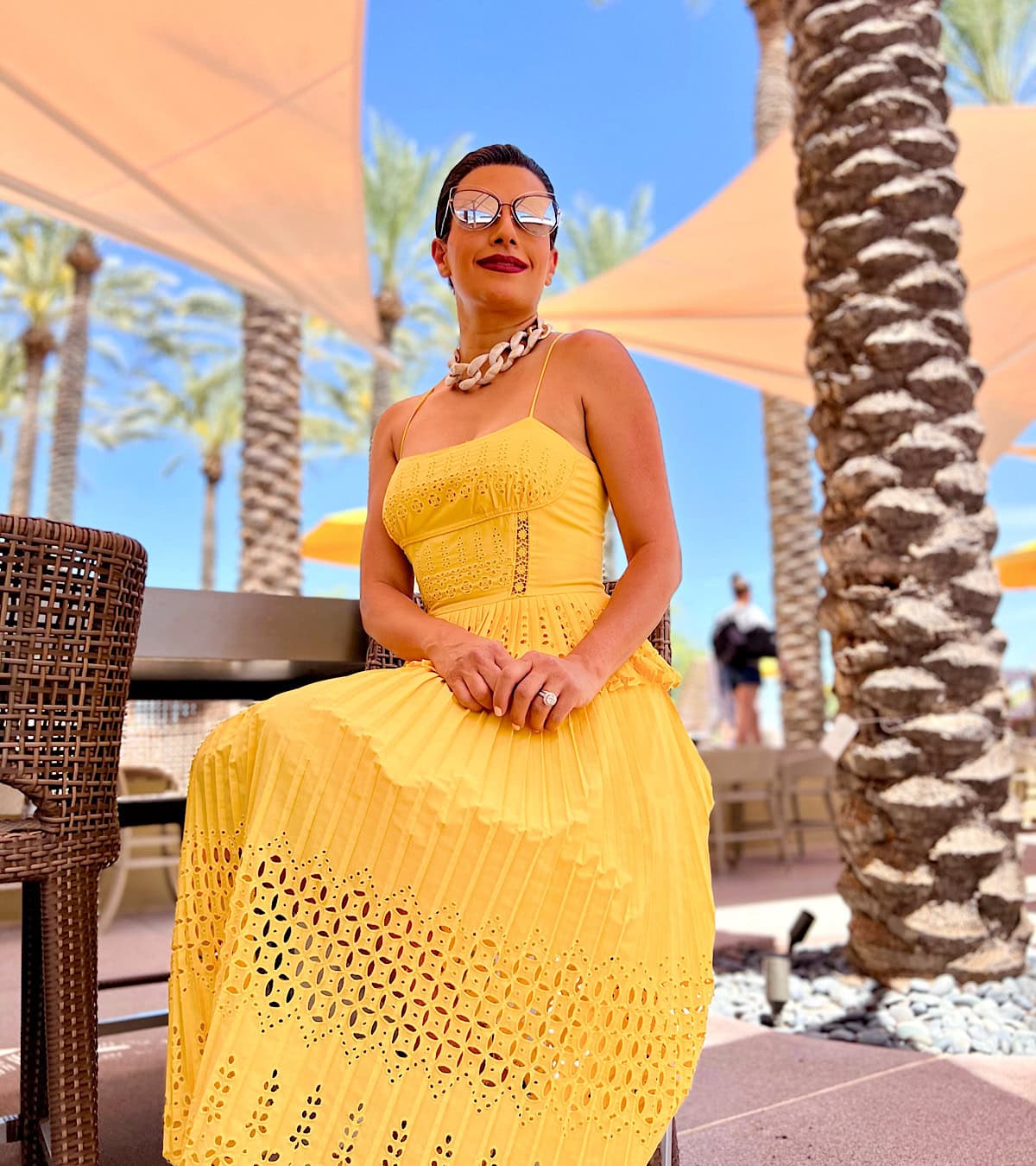 Handbag: Which Bag To Choose With A Yellow Dress
Handbags are such an easy way to accessorize a yellow dress because most of us are already bringing them with us anyway. Handbags can bring in color, texture, and even metals into our outfits. For knowing what to wear with a mustard yellow dress or a bright yellow dress when it comes to handbags, you want to think about all your options.
For me, I love a neutral-colored bag such as this bamboo clutch that I'm wearing with my dress. I also love carrying white handbags, because again, yellow and white go perfectly together. Adding in a white bag with a texture can bring something extra to your outfit without needing a pop of color.
If you love a pop of color and want to elevate your look in that aspect, then choosing a green, purple, or orange-colored bag can make a world of difference. A nice lavender or purple bag can make your whole look pop and it will contrast perfectly with the yellow. A green crossbody is a great option if you want something simple but with color. Another option is to incorporate materials such as a woven bag to add in something extra too.

Jewelry: Silver or Gold Jewelry With Yellow Dress?
Jewelry is one of my favorite ways to accessorize my outfit because it's super easy and can make any look put together. Wearing jewelry with a yellow dress is a great option because it can complement your look and the yellow color greatly, especially if you are looking to add a bit of sparkle. I love this thick chain necklace that is a combination of gold and tan!
Jewelry for a mustard yellow dress and a bright yellow dress should be in a gold tone. Keep in mind that you can also rock a beautiful silver jewelry with yellow dress like Anne Hathaway in this beautiful yellow Valentino outfit. Gold jewelry brings out the warmth in the yellow and mustard yellow which helps to balance out the outfit perfectly. Adding a gold necklace, gold dangle earrings, and a pop of gold on the wrist can bring your outfit to the next level without much effort.
If you're wearing a yellow cocktail dress then you might want something a bit more elegant, in which you can add pearls or a pendant gold necklace for statement and elegance. Earrings are another of my favorite jewelry items because they can add a lot to an outfit around the face area.
You can go simple and choose a simple stud, or you can add in something with a bit more to it and add in a colored dangle earring. Choosing earrings with yellow, white, black, or pops of color that match your other accessories is best.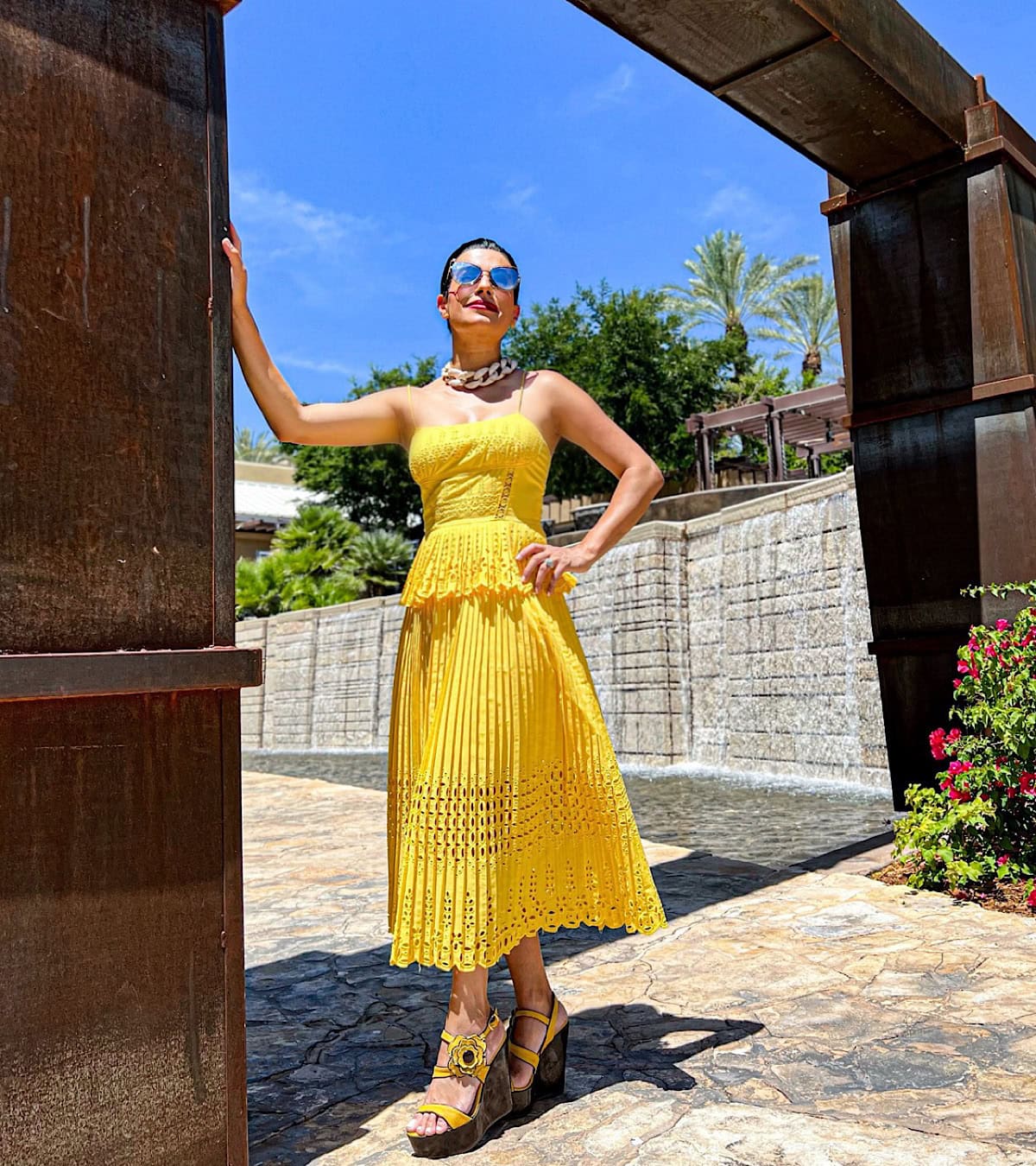 Belt: Accessorize Your Dress With A Cute Belt
Belts are another forgotten accessory that many people don't think about wearing when it comes to dresses. However, for me, a belt is the perfect accessory to add some shape and style to any outfit, including a yellow dress.
For a more neutral look, you can add in a black belt for black and yellow dresses and a white belt for white and yellow dresses. If you are wearing gold color jewelry, a gold waist belt is a great choice! If you're looking to add a pop of color, then a nice green belt will look great against the bright yellow.
If your dress is lacking texture and other colors or tones within, then a belt might be great to break up the consistency in it.

Lipstick: What Color Lipstick Goes with Yellow Dress
Lipstick is one of my favorite ways to spice up my look! If you aren't using lipstick as an "accessory" then you are missing out. Many different shades go with yellow, but my favorite to pair with a yellow dress would be a nude or a red.
Nude colors give full attention to your dress by not stealing the show with too much color, plus adding a gloss over top is a way to add in some shine. Red lips are my go-to bright-colored lipstick because they pair well with so many things.

Nail Polish: What Color Nail Looks Good with A Yellow Dress
Nail polish is one of those accessories that aren't always considered, but it should not be left out. Having your nails done is almost essential but matching them to your outfit is top tier. White nails are my favorite for any time of the year but especially in the summertime and they pair well with any yellow dress. They are elegant and they don't take away from the outfit. French tips are also perfect especially if you're wearing yellow cocktail dresses.

FAQ
How To Style a Pale-Yellow Dress?
Styling a pale-yellow dress is much simpler than a bright yellow dress because the color is less prominent. A pale-yellow dress is much more muted than a bright yellow dress, so this is your opportunity to bring it up a notch. Adding in colorful accessories such as a green handbag, gold or white-colored earrings, green shoes, or white nails can help elevate your look and make it more summertime friendly.
What To Wear with A Yellow Dress To A Wedding?
When attending a wedding you want to keep it simple but elegant. If you're wearing a yellow dress to a wedding, then keeping your accessories toned down and neutral will work best. Staying close to white, black, or neutral accessories will keep you looking elegant while remaining proper etiquette for a wedding. Jewelry can include pearls, simple studs, or a necklace, and wearing heels is always the best option.
What Compliments A Yellow Dress?
Any accessory can complement a yellow dress including jewelry, hats, belts, and handbags. The colors that go well with a yellow dress are white, black, and nude if you're looking to keep it neutral. These colors go with pretty much everything and they'll match any other accessories as well. If you want to add a pop of color that compliments a yellow dress then choosing green, or orange will complement the yellow color beautifully.
How Do You Wear A Yellow Dress In The Winter?
Wearing a yellow dress can be possible even in the winter time and I love adding them to my wardrobe for the winter. Adding a neutral cardigan or jean jacket over top can add an extra layer of style while also keeping you warm. Opting for closed-toed shoes such as flats, heels, or booties can also be a great option when wearing a yellow dress in the winter.
What Skin Tone Can Wear Yellow?
Any skin tone can wear yellow as this is a really versatile color that pops against many skin tones. Darker-colored skin looks great in contrast with yellow because it makes the yellow color pop. Lighter and medium skin tones can rock yellow as well with the same confidence and ability when pairing it with accessories like the ones listed above.
Conclusion On Styling A Yellow Dress
When it comes to styling or accessorizing a yellow dress it's important to remember the complimenting colors once you decide if you're keeping it neutral or colorful. Remember that yellow and black as well as yellow and white go great together. So if you're having trouble deciding what to accessorize it with then choosing something in those colors will be best.
Jewelry, handbags, belts, nail polish, lipstick, and more are great for accessorizing your yellow dress. Accessorizing fashionable yellow dresses: short or long is easy once you know the ins and outs of what colors go great with yellow. The key is to not overwhelm your outfit with tons of textures and colors but to stick with one to two colors for all your accessories.
Gold jewelry, black or white handbags, black, white or gold belts, and French tip nails can be great choices when deciding what accessories to choose for your yellow dress. Now that you know everything you need to know about how to accessorize a yellow dress. Have fun shopping and dressing up! You can also read this, this and this to get some great ideas on how to wear white dresses!
Love,
Sherry
This post may contain affiliate links, which means that I may receive a commission if you make a purchase using these links.
Shop The Post Or Similar
Sherry, xoxo






Sherry, xoxo