Looking for What To Do In Santa Monica? This Santa Monica Travel Guide has all everything you need!
Good morning friends! I wanted to share our little get-away to southern California with you today! I thought it would be fun to put together a little Santa Monica Travel Guide.
One of my best friends lives in Santa Monica so it's always helpful to have someone "local" to take you around and show you the best of the city!
Since I was pregnant with my little baby girl (Alina) until March of this year, I was not allowed to fly/travel for several months! I couldn't wait for my baby to be born so we could travel again as a family!
After Alina was born we were trying to plan some summer trips until we were got reminded by our pediatrician about the Measles outbreak across the US and several other countries.
Unfortunately this put many limitations on how many places we could go to with our newborn girl. Our pediatrician advised us that she would be able to get her first MMR vaccine at one year of age and that travel to California would be too risky before that first shot.
Therefore, we decided that Valentina, my sister (Kereshmeh) and I would all go to visit our best friend in Santa Monica while Alina would stay home with her Daddy.
Related Article: What To Do In Sedona Arizona
I knew that this would be a very fun trip for Valentina since she would get to hang out with her favorite aunties for few days at the beach. My bestie has a beautiful apartment viewing the ocean in Santa Monica.
Her apartment is in the heart of Santa Monica, right in the middle of all the happenings!!! So every time we visit her, we try new restaurants, rooftop bars, breakfast places, etc.…
Since this trip was all about Valentina, we ended up spending much of our time at the beach which we all loved, and the rest of the time we explored more of Santa Monica and Malibu!
Flight time from Arizona to Los Angles is only an hour for us, therefore, we visit California quite often! But if you have never been to Santa Monica or want to go back, here are some of my favorite things to do and places to eat!
Things to Do in Santa Monica and the Surrounding Area
Santa Monica Main Street Farmers Market: Visiting the fresh market is my one of my most FAVORITE things to do when I visit Santa Monica! If you're in Santa Monica on a Saturday, you should definitely stop by this farmers market.
They have a great selection of fresh fruits and vegetables (mostly organic), fresh cut flowers, seafood station, meat, eggs, cheese and so much more! I never walk out of that market without having the fresh orange juice!
It's so fun to walk through the market, to check out what's in season, pick up some fresh fruits and veggies, pastries, and head to the beach for a nice breeze. There are also so many great restaurants and coffee shops around the farmers market. As I'm writing this, I'm dreaming about walking in that market! Hahaha!
Santa Monica Beach: Santa Monica beach is lovely! Off course, it's not like the Caribbean, Fiji, Hawaii or Turks and Caicos beaches!
This beach has everything… big volleyball courts, bike rentals, bike lane, boardwalk, great sunsets and a incredible view. What's not to love?!
I also think they have done a great job of integrating their beaches into the city, the culture, and the lifestyle! If you stay away from the really crowded pier area with all the attractions, the beach is nice.
Bike Path: It's a beautiful path that also runs under the Santa Monica Pier. Lovely way to work out! Clean air and incredible views of the Pacific Ocean!
My favorite thing to do is rent the bikes and ride from Santa Monica to Venice beach, have a brunch in Venice and ride back to Santa Monica! If you head south from Santa Monica, through Venice, past the Marina and even beyond Manhattan Beach to Torrance, there's lots of entertainment, shopping, food and beaches to fill your day.
There are also several rental places scattered along the path that offer reasonable rates on bikes, skates, etc.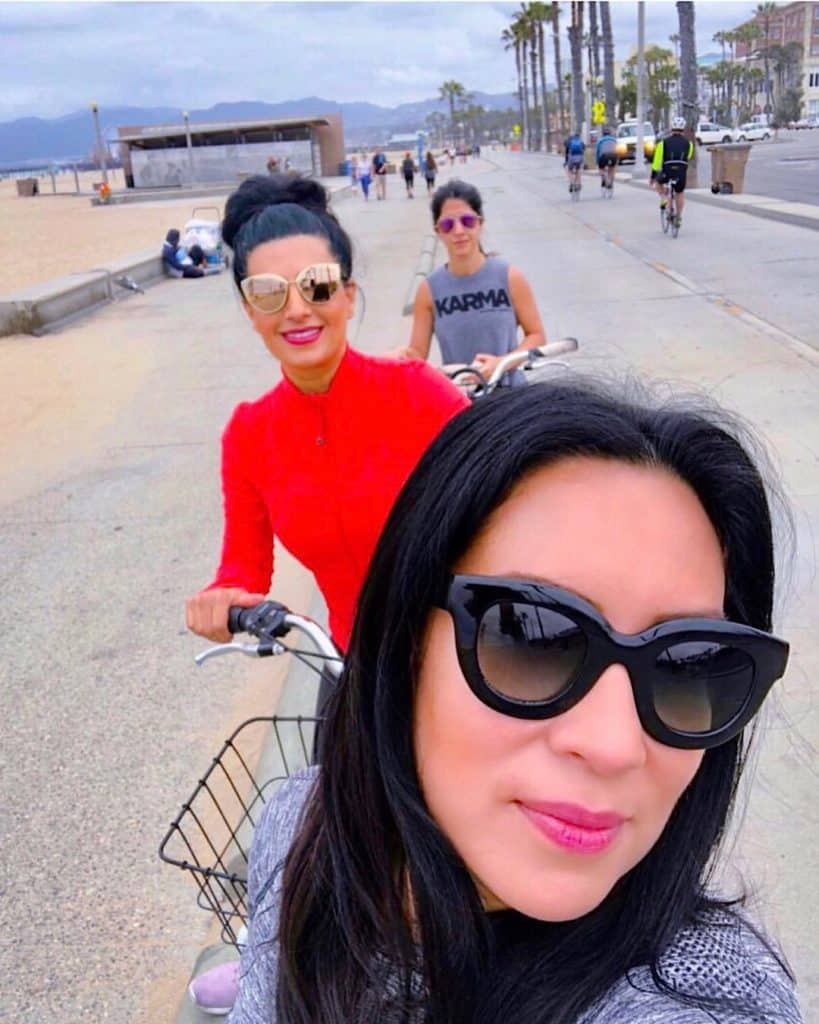 Third Street Promenade: This Street is a pedestrian-friendly shopping avenue in Santa Monica lined by many familiar chain shops, boutiques, many restaurants, coffee shops, gelato shops, etc.
There are also very cool street performers that are so entertaining to watch! My favorite part about the 3rd street is while you enjoy shopping, dining or walking down the street, you can feel the ocean breeze and enjoy the sunset!
They also have cool spinning chairs that are really fun to sit on (mostly for children)! We could not get Valentina off of those chairs! Hahaha!
Palisades Village Shopping & Dining: This is such a well-manicured shopping environment with pretty landscapes and colorful flowers! It's a perfect place to relax, stroll, get some coffee or ice cream, walk around and shop.
There is a little green area where you can borrow a blanket to sit and have kids run around and read books. It's a beautiful peaceful place to go solo, or with your family or your date! That was my first time visiting but will definitely go back!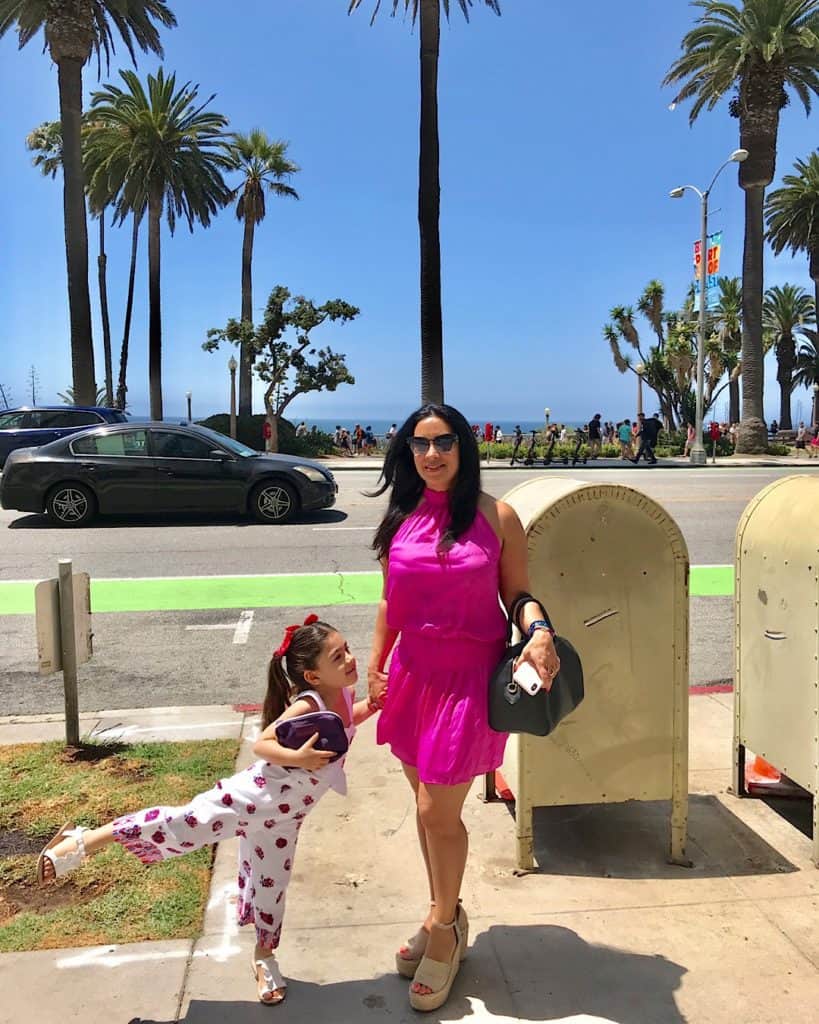 Santa Monica Pier: This is an iconic Santa Monica tourist spot. Most local people avoid going there! It's very crowded full of people, vendors along the boardwalk, bikers, carnival rides, etc.…
It's even more crowded in summer time, weekends and around the sunset time! The pier overall has a family oriented ambiance. It has variety of restaurants, an amusement park, with a variety of rides for children. I totally recommend visiting it at least once!
Visit Venice Beach: Venice Beach is a MUST see in LA. It's full of life and character. It is also full of diversity and wonderful sights! It's such a happy and colorful place with lots of street performers, painters, bicyclists, people riding scooters and off course, lots of sun!!!
The skate park is so cool and draws a big crowd to itself! To me, it's so bohemian and laidback. Since we were traveling with our little 4 year old Valentina, and she wanted to go back to the Santa Monica beach, we didn't get to spend that much time at Venice beach this time! I can't wait to go back and sped a full day in there.
Surf in Santa Monica: I'm definitely not a surfer (LOL!), but I would certainly love to take some surfing classes one of these days!
Surfing is one of the favorite sports for locals in LA. California water is too cold for me! I simply don't understand how people can surf or swim in the Pacific Ocean! I always assume, they must be from Canada! Hahaha!
But if you don't care about the water temperature, then you can surf in Malibu (very cold water), Santa Monica bay (a bit warmer water), Manhattan Beach (which is an excellent choice for experienced surfers) and Hermosa Beach.
Where to Dine in Santa Monica and the Surrounding Area
I'm sharing five of my favorite places to wine and dine in Santa Monica and the surrounding area:
Off course, if you want to visit Los Angles as a tourist, there are so many more places to visit like:
Shopping and dining in Rodeo Drive
Shopping and dining in Beverly Hills
Walk in downtown Los Angles
Take a Hollywood studio tour
Take a movie start home tours
Universal Studios Hollywood.
Griffith Park and Griffith Observatory
Disneyland Resort
Greystone Mansion
And so much more places to eat… But I only shared my top favorites in the area. I'm sure I'll add more fun places eat and explore to my list in my future visits to Southern California.
Love,
Sherry XOXO