As summer approaches there is always a need for a white dress, but the question is how to accessorize a white dress? White dresses are one of my FAVORITE summertime essentials to keep in my wardrobe.
I honestly think one of the most refreshing colors that you can choose for spring/summer is WHITE!!!! You simply cannot go wrong with it for this season! This is why I decided to share this post and talk about how to accessorize a white dress and make it into a new outfit for every single occasion.
This post is about how to accessorize a white dress!
When it comes to accessorizing a white dress there are many things to consider and a million different routes you can take it. You can accessorize with jewelry, scarves, sunglasses, hats and so much more!
Here are some tips for you on how to accessorize a white dress and get you ready for the warmer weather!
Match The Material to The Occasion
Dressing for the occasion is important no matter where you're going or what you're wearing. When choosing an outfit, you want to match the material to the occasion.
This comes into play when we choose the white dress and when we choose how to accessorize a white dress. So, this means choosing flowy materials for a beach setting and choosing more satin-type materials for a date night. Do this to your liking but consider which materials go well together!
Some materials are not appropriate for certain occasions. Woven hats would be perfect for a day at the beach but not necessarily perfect for a "dress-up afternoon tea party". Silk and satin materials are "dressier", so they can be used in a professional or a romantic setting. No matter the route you go, when figuring out how to accessorize a white dress you should consider material and occasion.
Related post: Top Summer Fashion Essentials for Your Closet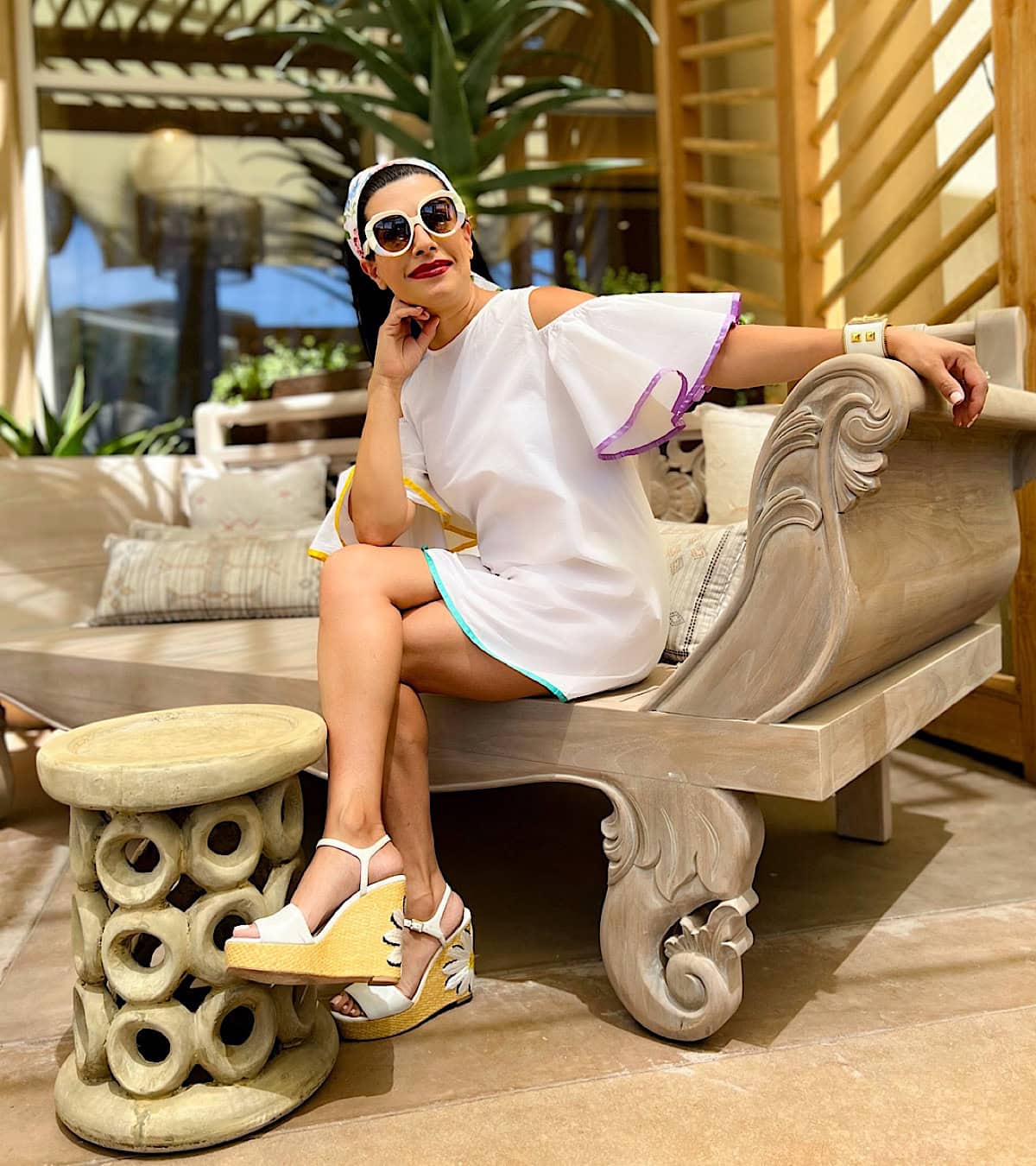 Choose Either Bold or Natural Colors to Go with The White
Now to talk about the color of your accessories. When asking how to accessorize a white dress you typically have two options for color: bold or neutral. Choosing a color scheme to go with will also depend on your style and the occasion.
For a summer beach day, you may want to accessorize with bright colors to accent the white dress. Maybe for a date night or a more professional setting, you can do neutral accessories to keep it simple.
If you've decided to go the natural colors, then nudes, browns, and beiges are your best friend. This could mean nude heels, brown-toned sunglasses, or a tan hat. If you've decided to go the colorful route, then you could choose red heels and handbags. Or simply choose fun and bright color headscarf, or colorful framed sunglasses!
Related post: Best White Summer Dresses That You Will Love Forever!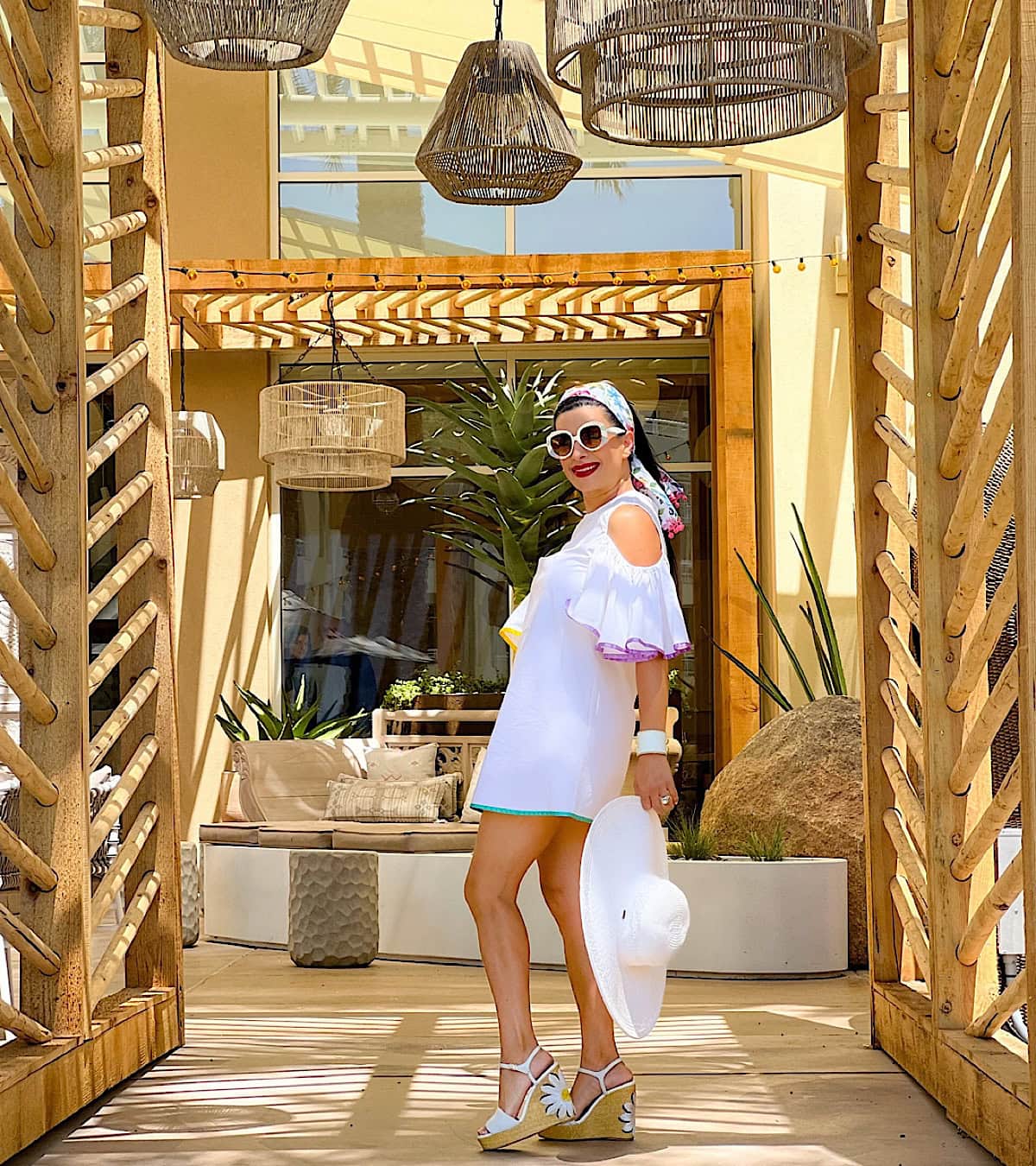 Find The Right Pair of Shoes
A girl's second-best friend is shoes, and we all know that shoes can make a huge difference in your overall outfit. There are a lot of different choices of shoes to wear from boots to heels, to flats. When it comes to figuring out which shoes to pair with your white dress you want to consider the occasion. Some types of shoes are more appropriate for certain events so this is important to take into consideration.

First, you want to choose the style of shoe. For more formal events you may want to opt for a heel or classy flat. Something that screams elegance with a bit of comfort is the perfect combination. If you're going for a business casual look then flats or short heels will do. Sneakers and sandals are great for more casual wear. These are great for lunch dates or a shopping trip.

Related Post: The Best Midi & Maxi Dresses this Spring/Summer!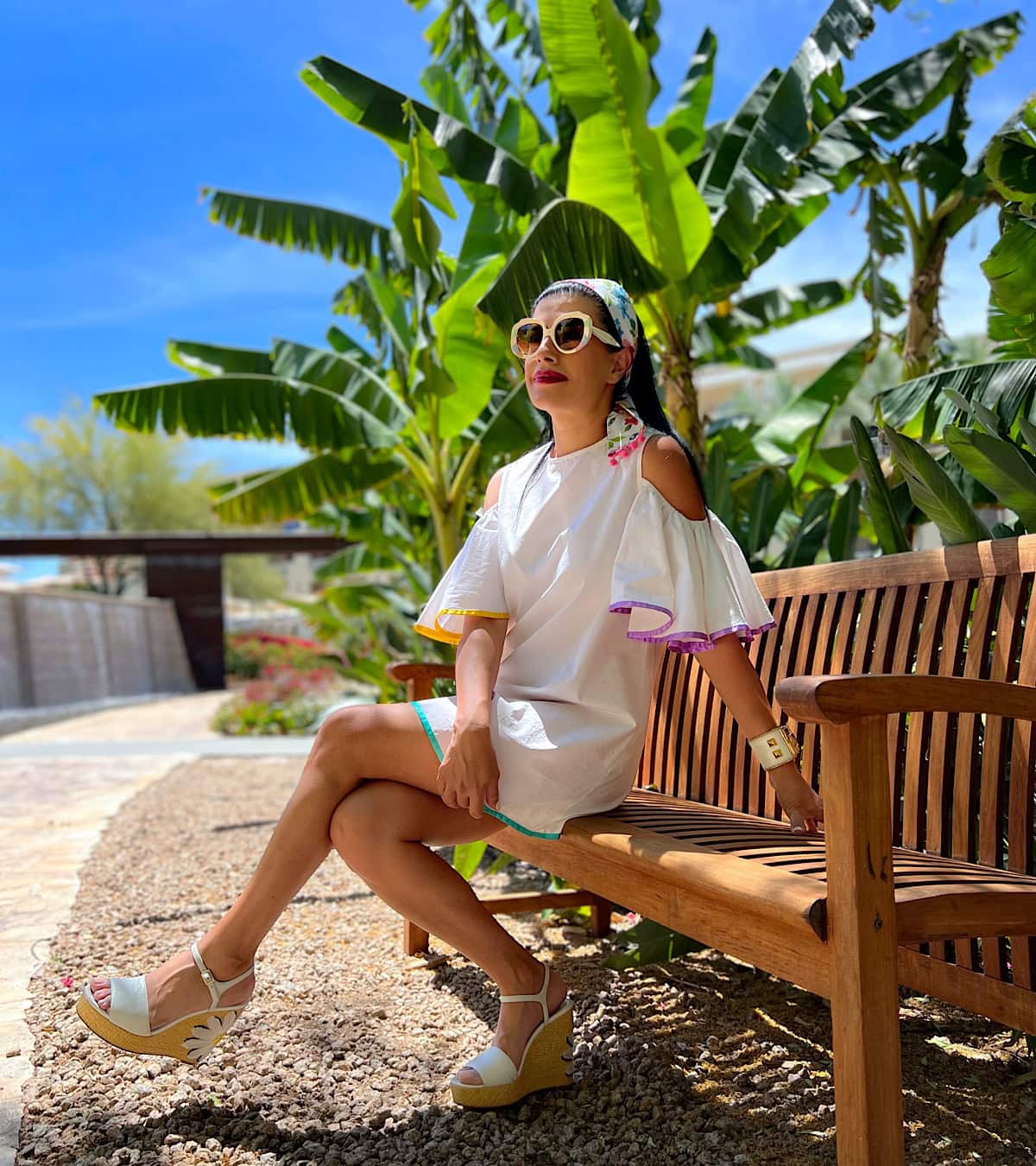 Next, we'll determine what color shoes with a white dress will look best. You could go neutral, or you could add in a pop of color. Rocking a red heel or bright-colored flat is the perfect accessory for a white dress. It's always fun to play around with shoe ideas especially with a classic white dress because they can definitely be a statement piece.
If you want to keep most of the attention on the dress, then wearing a nude heel or nude flat is ideal. Adding in a woven sandal for texture while still keeping the neutral vibes is great for a beach day. If you're someone who wants more of a statement shoe, then a red or bright yellow heel should do the trick.
Choose Statement Jewelry
So now, what jewelry to wear with a white dress? Statement jewelry is a great way to accessorize a white dress. A great bold pair of earrings, a sparkly necklace, or a statement ring can make all the difference when it comes to accessorizing a white dress. Now, choosing which pieces will suit your look is going to be the fun part!
Again, you should consider the occasion of your event. Sometimes you might want to go with more "low-key" and "toned-down" pieces. For other occasions, you may want to go with a more "dramatic" statement piece. The most common jewelry items are necklaces, earrings, and rings. So, let's look at what pieces might go best with your white dress!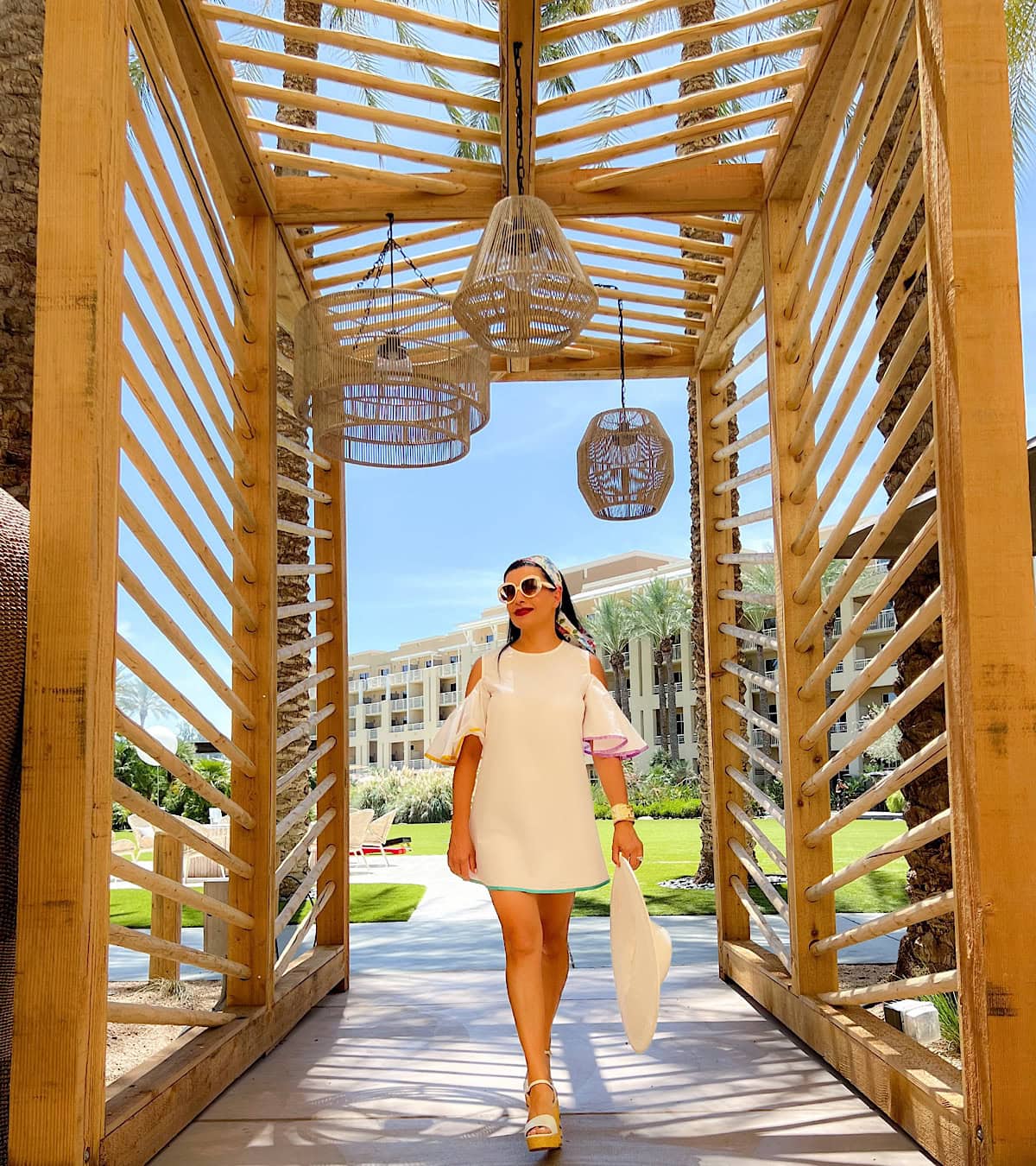 Necklace For White Dress
Necklaces are a GREAT way to accessorize because it's typically always visible to people and it is front and center. This makes for a great place to add a statement piece. There are a lot of different necklace options, but again it's important to consider the type of look you're going for.

For example, if you want something more "toned-down", then you can add in simple and elegant gold, silver, or even a pearl necklace. Necklaces with pendants also add a great statement piece to a white dress. If you want to go full elegance, then add a full diamond (more expensive), or crystal necklace (less expensive option) to your white dress!

Earrings For White Dress
Earrings are another place to bring attention to statement jewelry. I personally love to accessorize with statement earrings. Earrings have a lot of variety to them from studs to hoops and dangle earrings. Overall, choosing the style of earrings depends on how much of a statement you want the earring to be.

A beautiful stud is great for a casual statement paired with an updo for your hair. This gives the earrings a moment to shine while not taking away from the outfit too much. A sparkly dangle earring can add a lot of lovely shine to an outfit, and it would look beautiful with a half up half down hairstyle. Colorful earrings with designs or different textures make for a great statement piece if you want earrings to steal the show.

Ladies Fashion Rings
Rings are one of those accessories that can be super simple and elegant or very dramatic. I love a little of both! You can also stack rings which is a super cute look for summertime. Statement rings such as flowers, hearts, and butterflies are perfect for summer. I love a good pendant ring too because you can find them in beautiful colors.

Choose Statement Sunglasses
Sunglasses are essential in the summertime so adding them in to accessorize a white dress is perfect! I LOVE a good pair of sunglasses. There are tons of styles and colors to choose from that can take your outfit to the next level while also protecting your eyes from the sun.
I love a pair of circle sunglasses because they're super fun and they definitely bring an element to any look. Getting a light pink or white pair of circle framed sunglasses can make a statement paired with a summer white dress. A bold sunglass look is something many people don't go for! However, adding in a red cat-eye pair of sunglasses will definitely create a beautiful statement to your summer look!

Choose A Fun Fashion Hair Scarf
Fashion hair scarves are another accessory that goes forgotten and even I don't wear them as often as I should!! Summertime is the perfect time to bring out a beautiful hair scarf. Hair scarves come in a lot of different colors and prints which I love because you can have one to match any look.
My favorite type is a satin scarf for hair because the soft texture looks great in the hair and is paired with many other materials. Hair scarves make a huge statement paired with a white dress which is exactly why I love them. I mean, a great patterned and colorful hair scarf can bring an outfit to life.

Choose Statement Headbands
Headbands are a great option for accessorizing any dress and they are definitely becoming more popular. There are a lot of cute headbands for women. Statement headbands can be knotted, tied, metal, fabric, or embellished headbands.
Adding in a colorful headband is perfect to add a pop of color to your outfit while also being a little bit subtle. Embellished headbands a great for an elegant look while still being an eye-catching piece.

Choose A Cute Women's Hat
Hats are one of my favorite ways to accessorize compared to hair scarves. There are just so many options that you can choose from, and they can add SO much to an outfit! Choosing a simple neutral hat will give you a perfect accessory that doesn't grab too much attention, but still is a statement piece. While adding in a bright pink hat can make all the difference to a white dress in the summertime.

Choose A Cute Jean Jacket
If you want to know how to accessorize a white dress in the fall or wintertime, then adding in a cute jean jacket is the perfect solution. You can choose light denim, dark denim, or even a white jean jacket. If you're looking to figure out how to dress down a dress then a jean jacket is definitely a great way, because it adds a bit of casualness to the look.

Add A Pop of Color
We all love a classic white dress but adding in a pop of color is the best way t bring the outfit to life. White is a very neutral color that you can accessorize any type of way! Adding in a colorful hair scarf, a bright pair of sunnies, a gemstone statement necklace, or even a colorful big floppy hat can bring your simple white dress to life. My best tip on how to accessorize a white dress is to add a pop of color, this will make all the difference.
Choose Gold Accessories for White Dress
My favorite metal type for accessorizing a white dress is gold. Gold accessories pair perfectly with a white dress because it's a bit contrasting and it also helps to warm up the look. Adding in a pair of gold earrings, a gold statement necklace, or gold accented shoes can make your white dress look even more elegant.

Where to Buy Cute White Dresses



FAQ
How Do You Accessorize White Dress?
Accessorizing a white dress is simple when you know what amazing types of accessories are out there. You can accessorize a white dress using jewelry, hats, scarves, headbands, shoes, and more. You can choose neutral or colorful accessories to make your outfit pop or to keep things neutral.
What Color does Jewelry go With a White Dress?
Jewelry is a great accessory for a white dress. You can stick with gold or silver jewelry to accessorize, or you can add in gemstone or pendant jewelry of any color to add a pop to your white dress.
How Do You Glam a White Dress?
To glam a white dress there are a lot of options but definitely if you want a more glamorous look then stick with elegant accessories. Nice jewelry pieces will give you a glam look and a pair of heels will add the perfect touch to a white dress.
How Do You Make a White Dress Stand Out?
You can make a white dress stand out by accessorizing it with eye-catching accessories. Choosing colorful accessories can bring a lot of attention to a rather simple white dress.
How Can I Wear White Without Looking Like a Bride?
Wearing white can be accessorized in a way that doesn't resemble a bride by wearing colorful pieces such as a colorful hair scarf or a colorful shoe. You can also add things like that to make the outfit a bit more casual and a little less bridal.
Can You Wear Off White with White?
You can wear off-white with white, but the off-white will be a bit more subtle because it's lacking brightness. Although you can wear off white with white, it might be more fashion-friendly to choose another contrasting color instead.
How Do You Rock a Dress Without Heels?
Rocking a dress without heels is easy if you have a cute pair of flats or sandals. You can even dress down a dress by adding sneakers instead of heels, sandals, or flats.
How To Accessorize a Long White Dress?
Accessorizing a long white dress is easy but you just have to focus on the visible parts. So don't waste much time choosing shoes if they won't be seen anyway, just choose items such as headbands, hats, or jewelry.
Silver Or Gold Jewelry with White Dress?
Choosing silver or gold jewelry with a white dress is a simpler question than you might think. This is all a matter of personal preference, but gold jewelry looks great with warm tones and silver looks great with cool tones. Matching the metal color with other accessory colors is best.
The Bottom line on accessorizing a white dress: When it comes to accessorizing a white dress it's important to remember the details of your outfit. White is a very neutral color that pairs well with accessories that stand out for a more eye-catching look or even neutral accessories that help to keep the outfit more laid back.
No matter what your style is, there's always a good hat, jewelry piece, pair of sunglasses, or a pair of shoes that can help amp up your outfit. I hope this helped you all in figuring out how to best accessorize a white dress!
Love,
Sherry
This post may contain affiliate links, which means that I may receive a commission if you make a purchase using these links.
Shop The Post or Similar













Sherry, xoxo