Happy Tuesday friends! I wanted to share our great experience traveling to the Atlantis resort in Nassau Bahamas and all the fun things to do as a family or as a couple! If you are looking for things to do in Atlantis Bahamas (where to stay, where to eat, what to do, etc..…) you can get great ideas from this post.
We traveled to Bahamas in mid-October. We chose this date because Matt was travelling to his friend's wedding in September and we had so many other things going on this summer. Therefore, the only available time for us to make a little family beach trip was October!
October turned out to be a FANTASTIC month to visit Bahamas. The temperature could not have been any better (average of 80-83 Fahrenheit which is about 26-29 Celsius) every day. The first two days were cloudy, however, the cloudy days made our stay even more pleasant.
Other days were all sunny (which we thought between 12pm-3pm was pretty hot and humid) but right around 3:00pm- 4:00pm the temperature dropped and you could feel a nice ocean breeze hitting your face and body! Finally, around sunset time, it was truly a MAGICAL time!
We could not leave the beach! It was simply breathtaking! I'm going to talk this amazing time of day in more detail below!
Why We Chose to Stay at Atlantis Resort Bahamas
The Atlantis Resort on Paradise Island in the Bahamas is the biggest resort in the Caribbean. It has a gorgeous water park with the most incredible water slides (both for kids and adults), beautiful casino, shopping, dining, swim with dolphins at Dolphin Cay, lazy and wild river ride options, water slides that go through shark tanks and so much more!
We couldn't think of a better place to travel with our little family than Atlantis Paradise Beach Bahamas!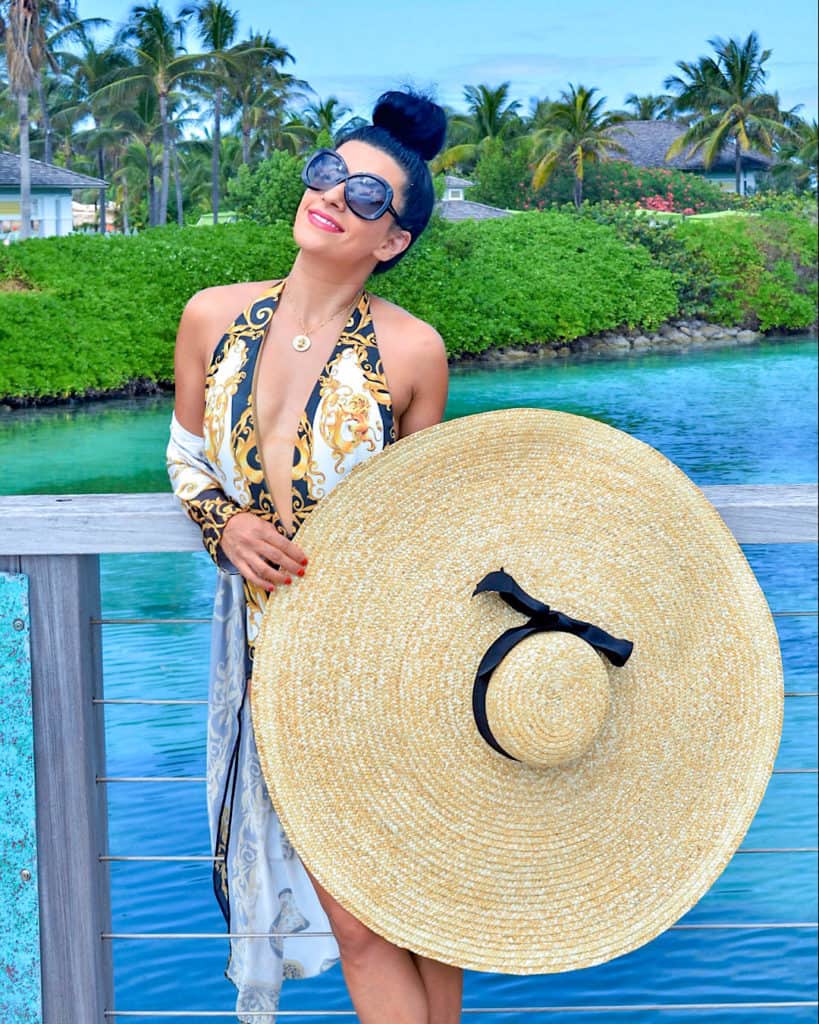 One thing I can tell you is that you don't have to have children to stay in the Atlantis resort. The Atlantis resort Bahamas is just as perfect for adults!
If you like to gamble, you will have a blast in the Atlantis resort casino. If you love shopping and dining, there are several great restaurants such as, Nobu, Jose Andreas and Olives, and there are several luxury shops around the resort such as, Chopard, David Yurman, Gucci and many more.
Related Article: Travel Guide Santorini, Greece
Additionally, there are many other fun activities for adults like snorkeling, scuba diving, shark adventures, several yacht and fishing charters and better than anything is the PINK SAND B.E.A.C.H. I have seen the "pink sand beaches" on travel channels before, but never walked on it! It's something that you have to experience!
Things to Do In Atlantis Bahamas for Adults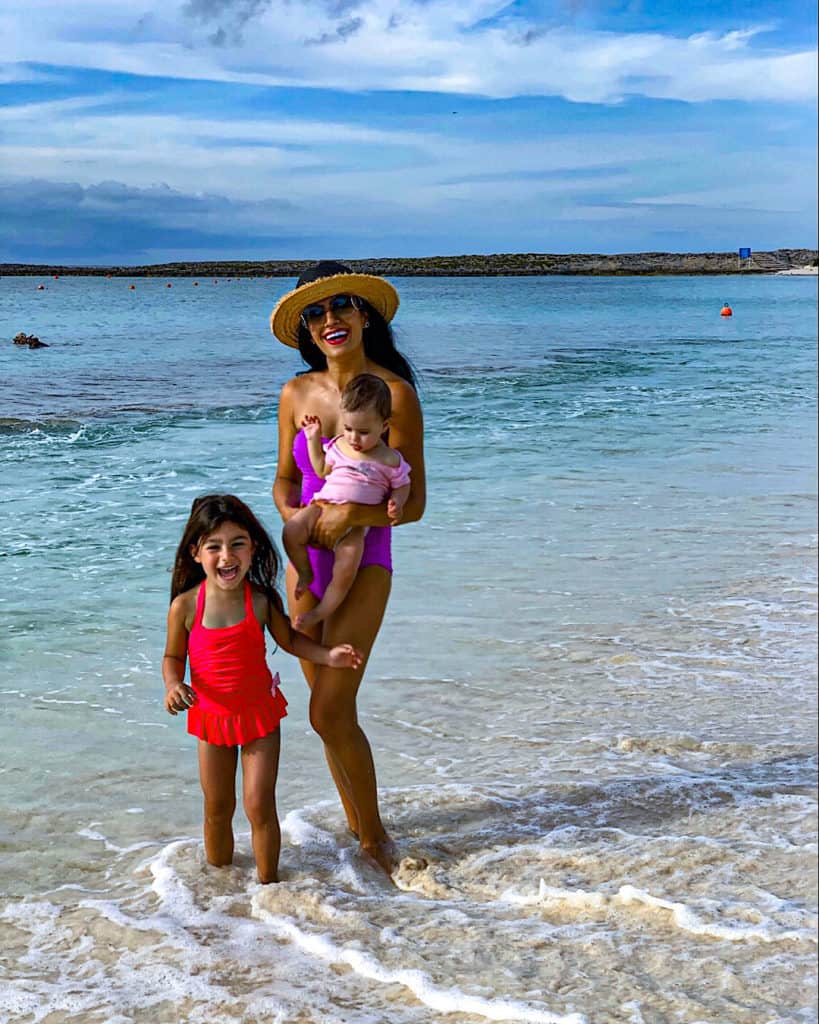 Pool and Beaches: The Bahamas are great wherever you stay and whatever you do. But "The Cove" at the Atlantis is extra nice. The Cove beach is private for the Cove hotel.
We absolutely loved that little extra "privacy" at the beach! If you are traveling as a couple, you will LOVE walking on the soft pink sand together! I think that beach is perfect for ANYONE! Single, couples or families! Matt and I called it a little slice of heaven on earth! It was that nice!!!
If you prefer the pool over the beach, as I mentioned above, there are 11 gorgeous pools to enjoy while staying in Atlantis resort. The "adult" pool (by the Cove beach) is a fun pool to hang out with cool music and great food/drinks. Since we were traveling with our little girls, therefore, we couldn't really hangout at the adult pool but it looked very nice!
Watch Sunset On The Beach: One of my favorite sunsets that I have ever seen was in Santorini, Greece. I thought the paradise Island Bahamas sunset was just as breathtaking!
The sky colors around the sunset time are out of this world!! They turn to the nicest shade of orange, light pink, purple and blue! Every day we sat on the beach lounge chairs and walked on the soft powdery sand and watched the sunset! We never missed the "sunset time" on the beach!
Rent Water Bikes, Kayaks and Banana Boat in the Royal Lagoon: We didn't even know there is a water sport station in the lagoon. You can rent kayaks, water bikes or banana boat! We discovered it when we were exploring the lagoon! You will LOVE it! Make sure to go visit and have some extra fun while staying in the Atlantis resort.
Visit the Atlantis Predator Lagoon: Predator Lagoon is an AMAZING adventure! To me, is one of the things that sets Atlantis apart! It is so nice to stroll through some cool sights of the sharks and stingrays.
I think everyone (the little ones as well as the teenagers and older adults), will enjoy this gorgeous Predator Lagoon in the Atlantis resort. My favorite one (beside the sharks), was the Manta Rays!!! They were HUGE and looked really cool!
If you stay in Atlantis resort or have the Atlantis Bahamas day pass, make sure to visit the predator lagoon!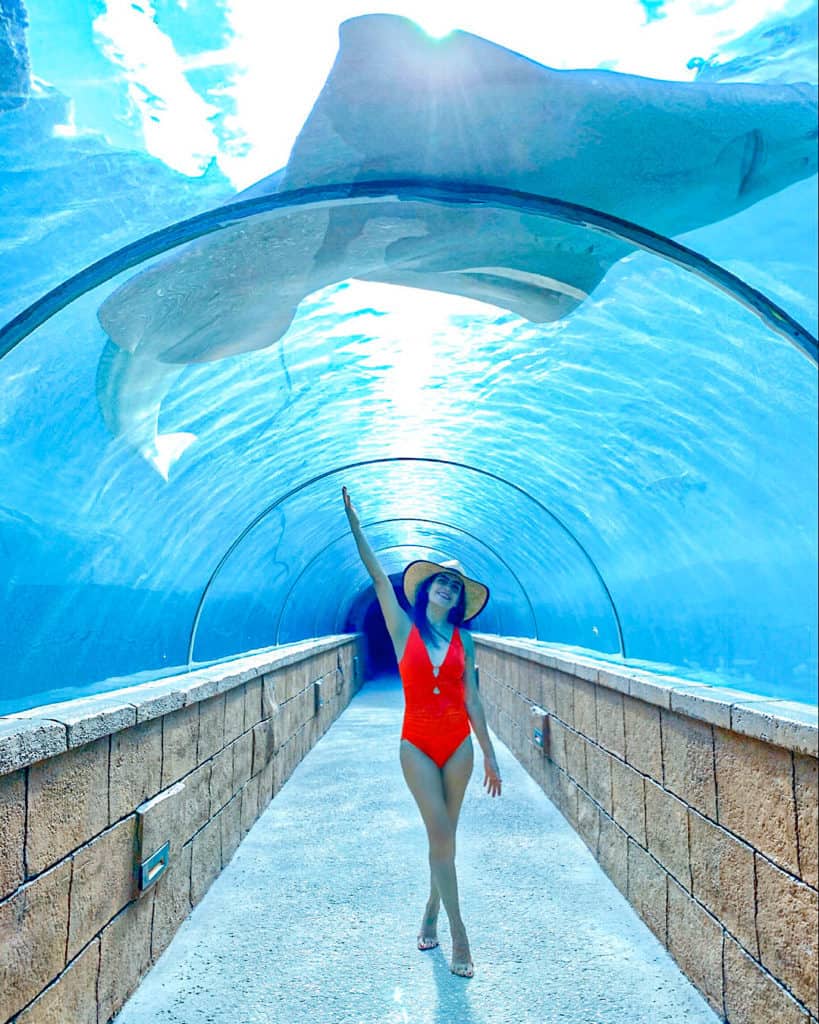 Aquaventuer Waterpark: This is a must do!!! There are lots of water slides to choose from. It's a very fun water park with something for everyone. Matt and I LOVED the slide where you end up in the shark tank.
NO, you will NOT be with the sharks in one tank (because that's what I thought first, LOL), but you will go down a really dark, high speed, fun slide and end up in a closed tank full of sharks swimming around from the outside! It's such an incredible experience!
Make sure to try that out! There are so many other fantastic water slides and pools for the adults that you definitely have to try!
"Lazy River" or "The Current": If I could, I would be on this lazy river ALL DAY LONG!!! I think everyone (adults or kids) will enjoy this lazy river ride! Valentina loved it just as much as we did! Floating on those fun inner tubes around the gorgeous tropical landscape of the Atlantis resort is nothing but pure relaxation and fun!!! Definitely recommend it!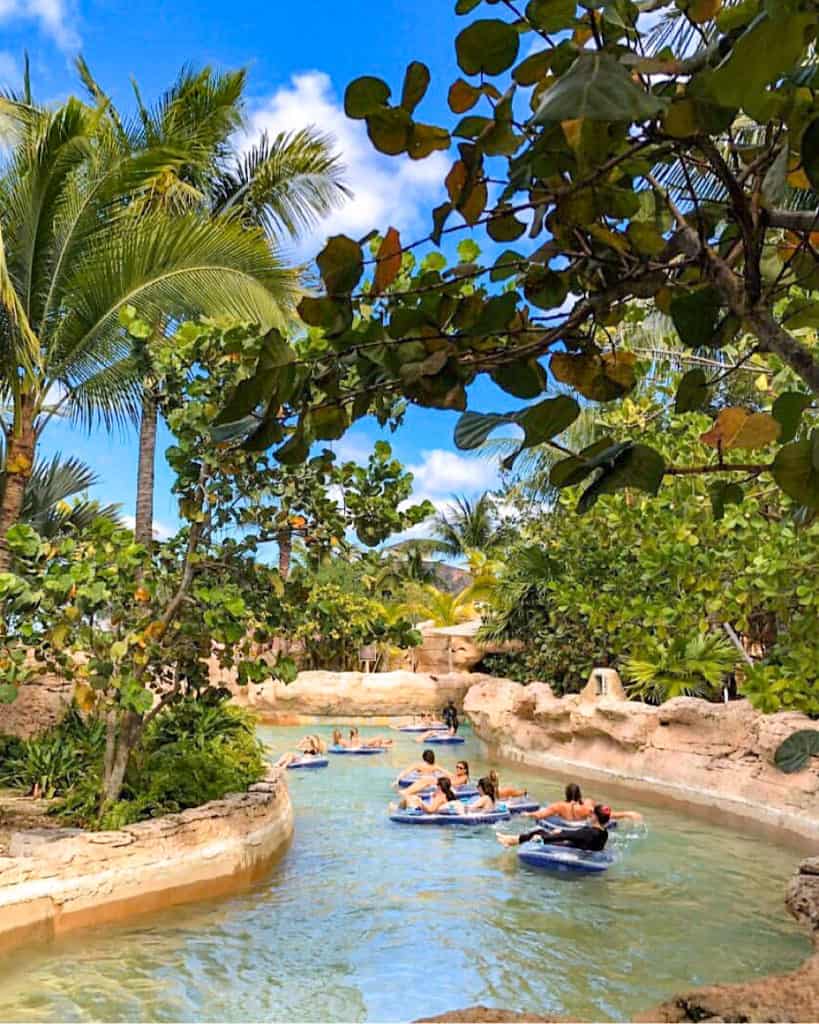 Eat, Drink and Get Tan at the Lagoon: After a couple of hours hanging out and relaxing on the white beach chairs at the lagoon, we headed over to the Lagoon Bar and Grill for some lunch and drinks!
The food was not the best we had in Atlantis, but we mostly went there to enjoy the views of the royal tower while eating lunch. I'm so glad we went! It was a great experience!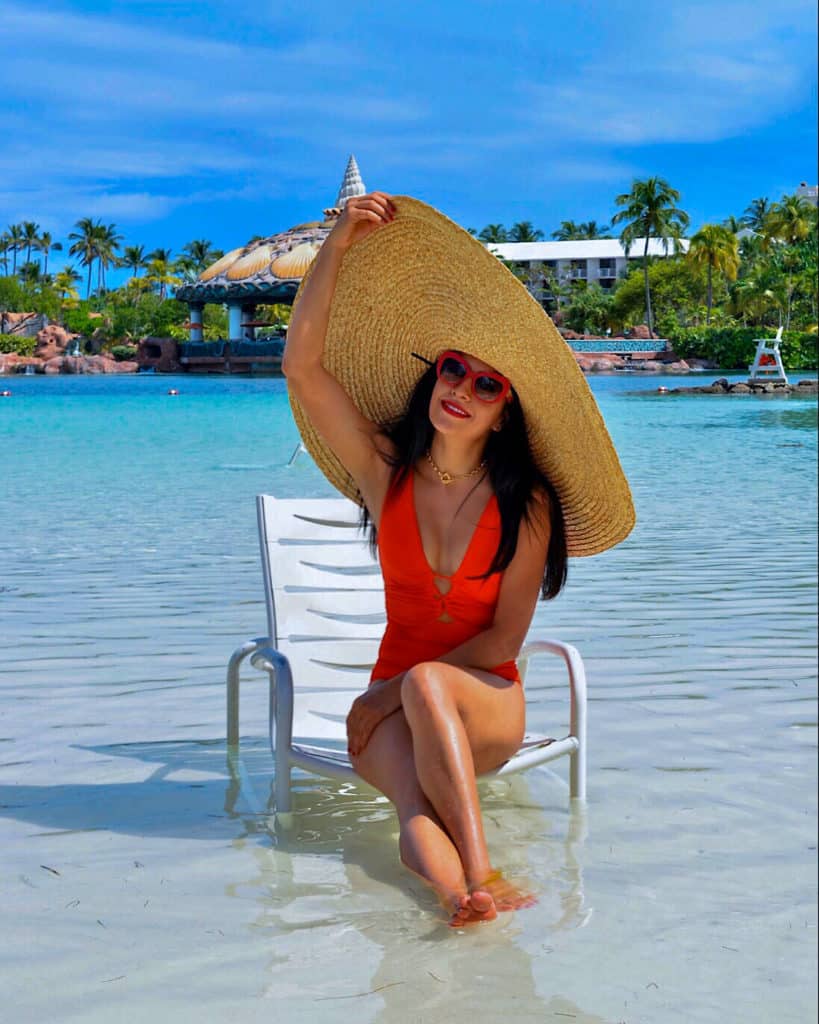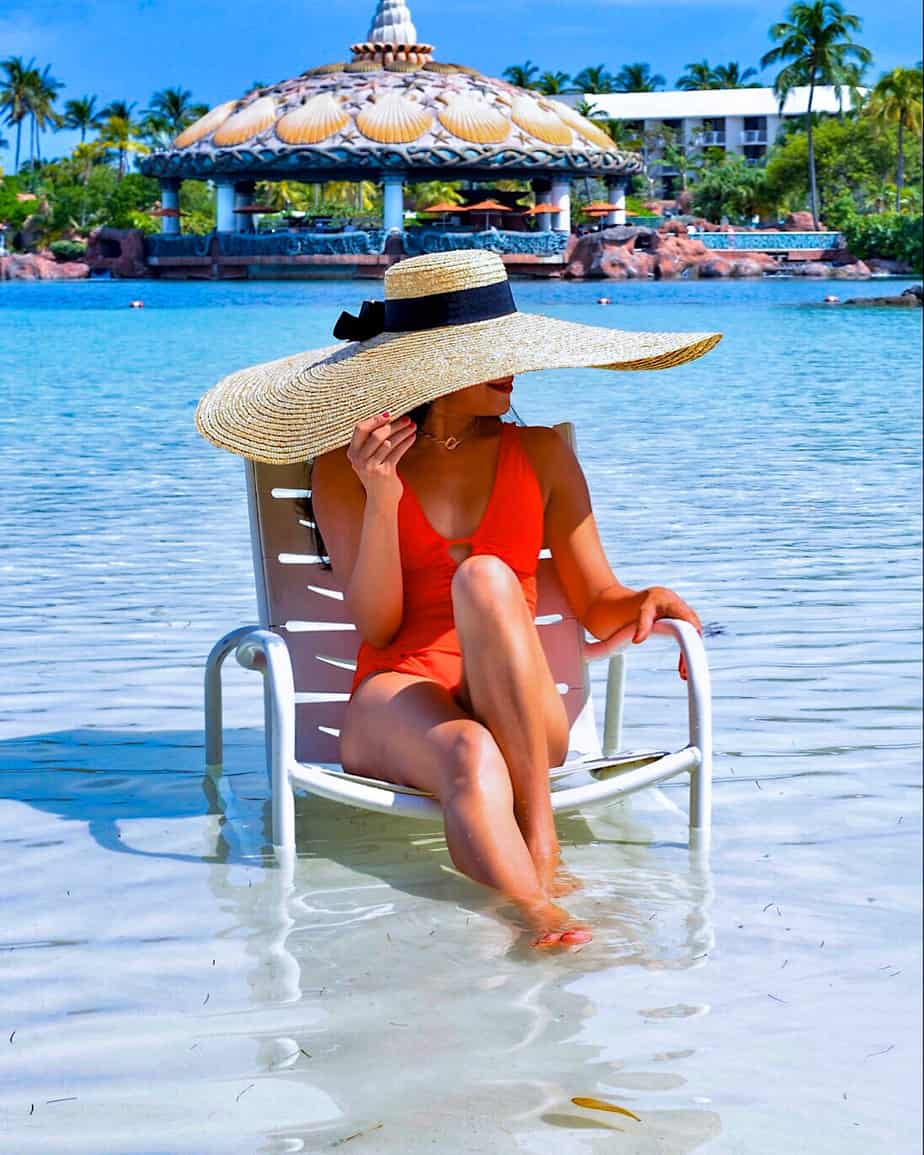 Explore the Gorgeous Atlantis Resort & the Breathtaking Water Features: That's what we did every evening! After all the fun at the pool and the beach, we showered, got ready and explored the beautiful Atlantis resort. I couldn't get enough of the stunning water features all over the resort!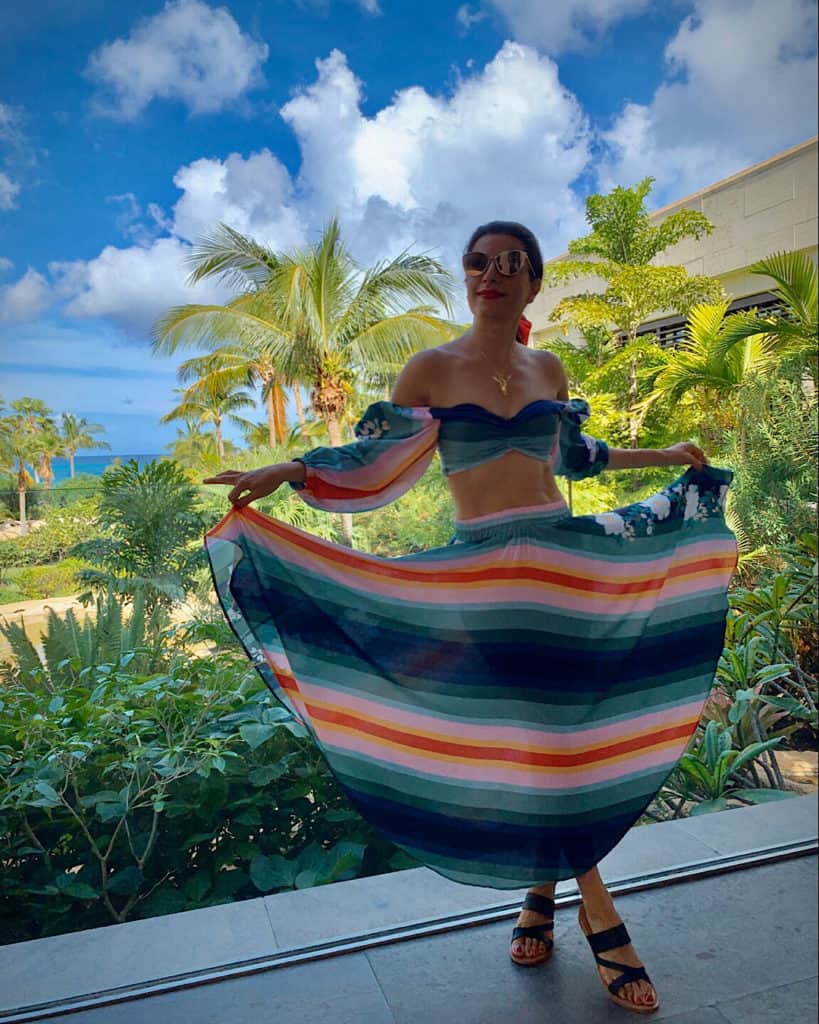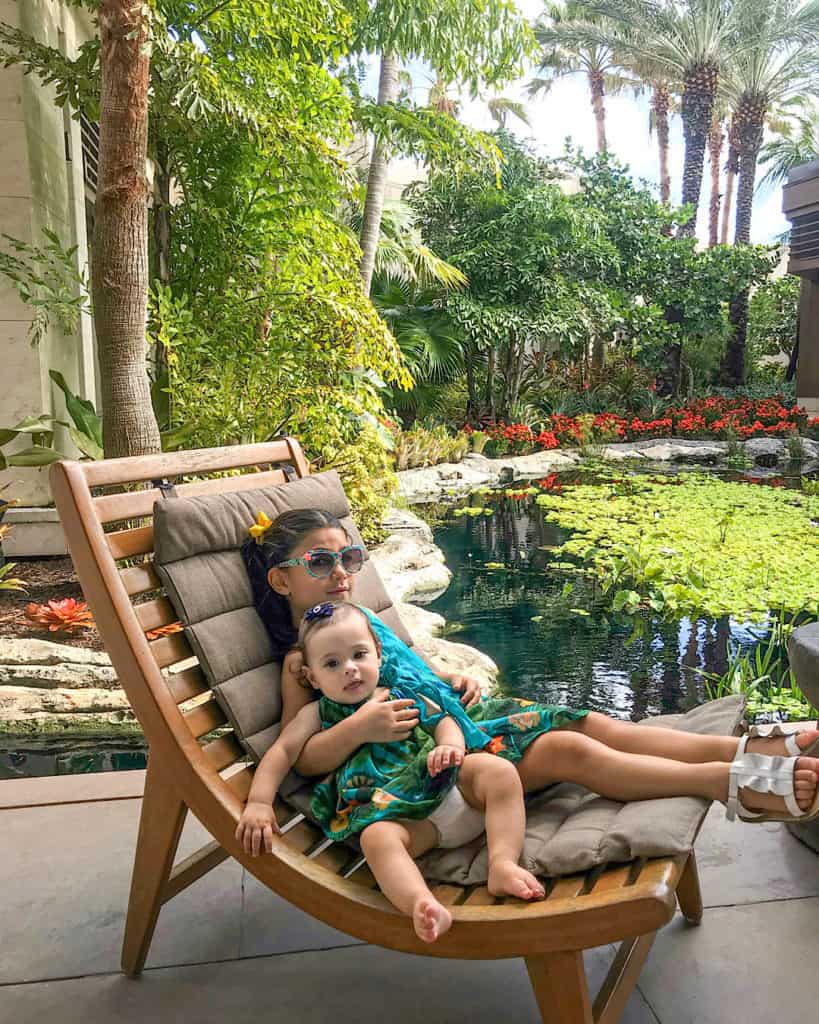 Mandara Spa Atlantis: Couple massage at Mandara spa after a long day of relaxation by the beach and pool can be a fantastic way to end your day! Mandara spa offers amazing massages, facial and body treatments.
They even have a full range of barbering services (grooming treatments, haircut and style…). It's a gorgeous spa! I think this spa experience can definitely add a few extra fun memories to your trip.
Casino, Night Club, Theater, Shopping: One of the best nightlife in Paradise Island is in Atlantis resort! From live music and cool cocktails to the coolest night club (Aura night club), Atlantis resort has an amazing night life and offers the largest casinos in the Caribbean, Nassau Paradise Island.
If you are a hotel guest, then try to maximize the night life and the casinos! If you are stopping by with your cruise, make sure to spend some time in the Atlantis Casino and shop from the beautiful boutiques or the luxury stores/brands if you are interested.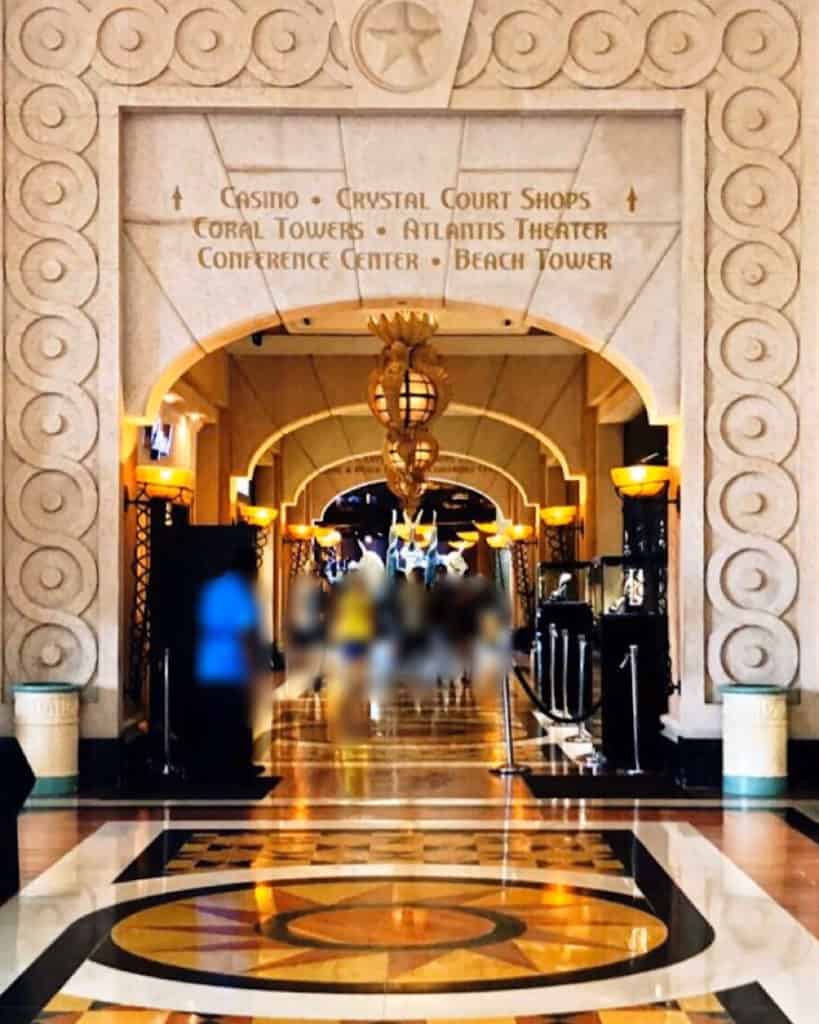 Rent a Private Cabana: We didn't rent any cabanas since we would not spend anytime inside it traveling with a toddler and a baby! We were hopping around different kid's pool with Valentina, all day every day!!! LOL!
I honestly think renting a cabana is all up to YOU and the season you are travelling. We were visiting the Atlantis resort in October and it was a perfect season! It was not that crowded!
But if you travel during the high season or when the schools are closed, the resort will be packed with kids and families, so you may want to consider renting a cabana if you want to escape the crowd!
Things to Do In Atlantis Bahamas for Kids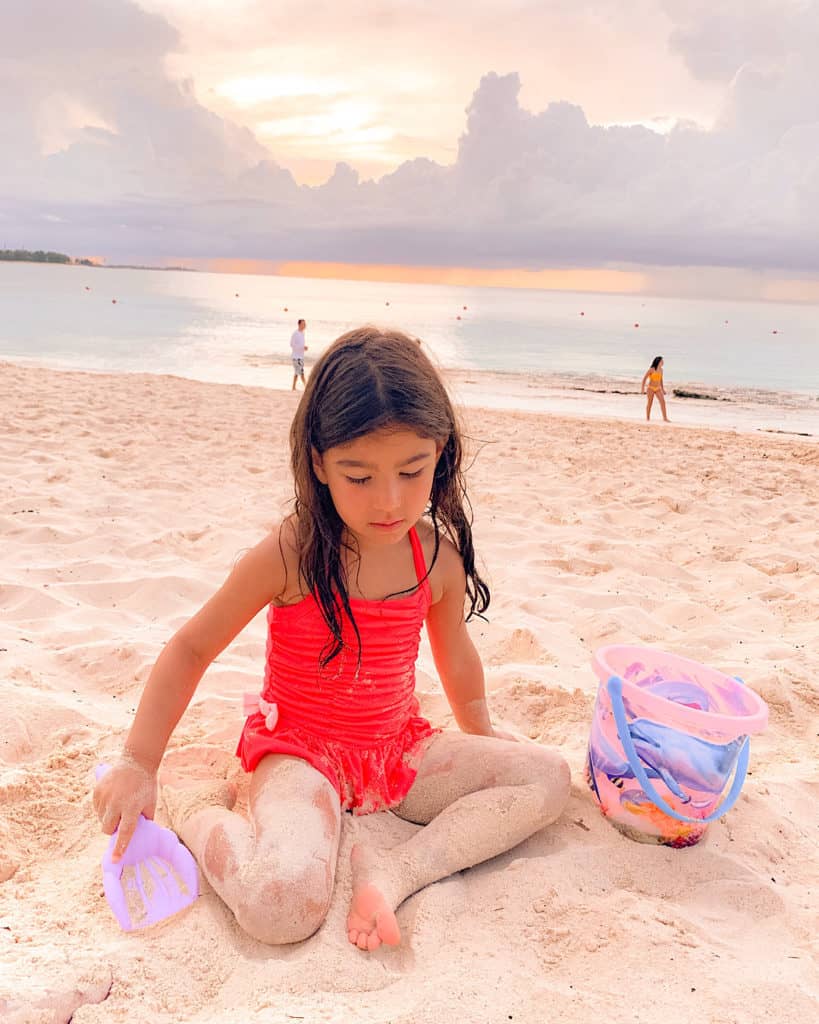 If you travel with your family and have kids, you and your children will absolutely love Atlantis. The Atlantis resort kid's activities are one of the best in my opinion.
Our little 4 year old daughter Valentina, loved the kid's pool so much that she didn't even let us take her around the resort that much and experience other activities! She would literally be in tears if we moved her away from the kid's pool with all of the slides! LOL!
Related Article: Travel Guide: Playa Mujeres Mexico
But if your children are more open to trying different activities, there are so many fun things to do in Atlantis Bahamas with kids of all ages (from babies to teens). These are some of my favorite activities for kids in Atlantis Bahamas:
Play in one of The World's Most Fun Water Parks: If you are staying in the Atlantis resort, you get a complimentary access to the 141-acre waterscape featuring beautiful Atlantis-themed towers, 20 swimming areas, 11 pools including three kid's pools, the most fun water slides, a mile-long river ride with high intensity rapids and wave surges.
Have Fun at the Kid's Pools: The Atlantis waterscape offers 11 pools spread out across its beautiful property. They offer different kinds of pools for different age groups. (1-6 toddlers), (7-12 preteens) and (13-17 teens).
Matt and I were joking saying we have to do "kid's pool hopping" every single day from morning until 5:00-6:00pm when they would close all the kids' pools! We were dying to go and hangout at the beach, but Valentina could not get enough of all the fun at the kid's pool. Your kids will love these pools!
Floating On The Calm Ocean: After a long day of playing at different kid's pools, floating on the calm ocean with no waves and watching the sunset was the favorite part of the day for our little girly, Valentina!
The ocean was so shallow and had literally no waves that it felt like a swimming pool! While Valentina was floating on the ocean, either me or Matt were pushing the floater and were walking in the shallow water so we could get our daily exercise done! Hahaha!!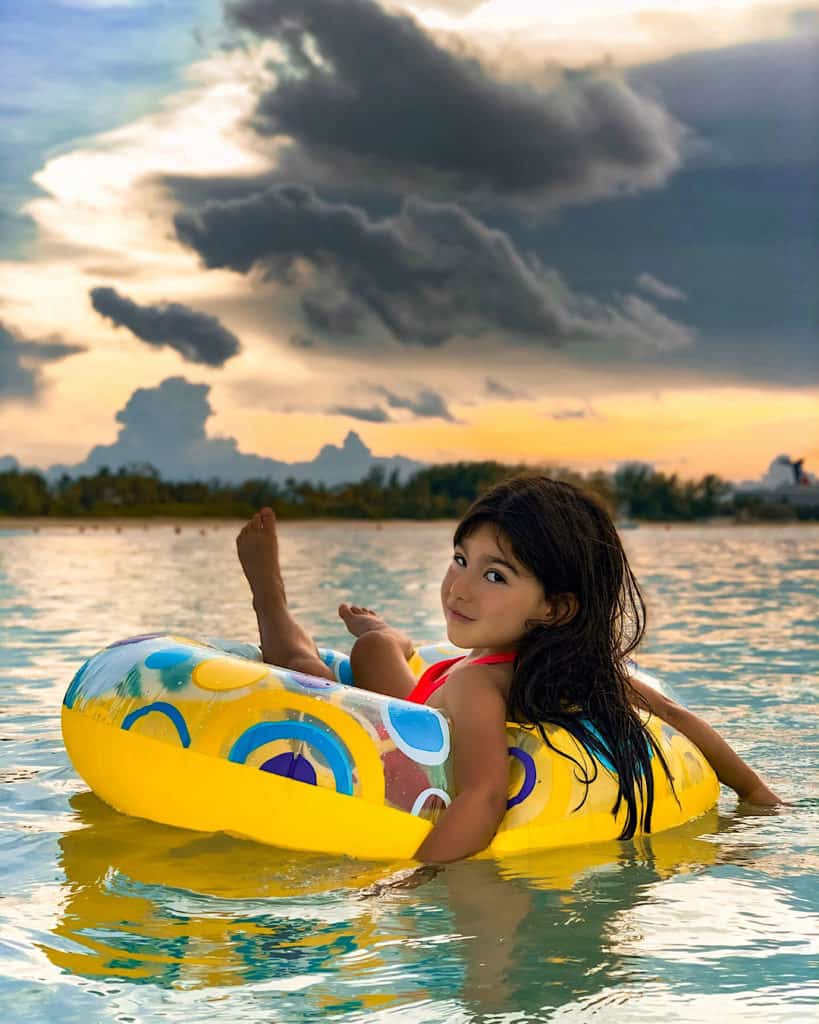 Playing on the Beach: Nothing beats the good old digging in the sand! Get a beach bucket and shovel and you will be good to go for hours! Hahaha! Matt and Valentina had a blast on the beach when Matt buried her up to her neck in the sand.
Swim with Dolphins: Unfortunately, we did not get to swim with the dolphins. Children must be 6 years old or older to participate and swim with the dolphins.
Our 4.5 year old Valentina was not eligible to participate. But if your children are older than 6, they can swim with dolphins and learn from the dolphin behaviorists as they swim alongside dolphins in the crystal clear water.
Hand Feed Baby Stingray: This is a 45-minute experience that allows you to snorkel with hundreds of stingrays and feed them in a shallow lagoon. It's a very fun experience (especially for little kids).
An Aquarist will be there to guide you and share interesting facts about stingrays. The experience is open to those aged five and older.
Try Snuba Diving: Minimum age is 8. So if you love Snuba diving and your children are 8 or above, then consider this fun family adventure!
Highlights
Where to Stay: We loved the Cove! The Royal towers has by far the most rooms of any hotel in Atlantis resort. Many first time visitors choose the Royal towers. It's a great choice because the casino, all the shops and restaurants are all right there!
However, we were informed by the hotel that "the Cove" tower offers newer, more modern and luxurious rooms and suites than any other towers/buildings inside the Atlantis resort.
Where to Eat: For fine dining we loved the "Fish by José Andrés at The Cove". Make sure to order the "crab cake sandwich"! It is SO delicious!
Our other favorite restaurant was "Olives" by celebrity chef Todd English's. If you love Pasta, make sure to order the "Hand Crafted Rigatoni Bolognese"! They called it old school Tuscan Bolognese with shaved parmigiano. As I'm writing this, my mouth is watering thinking about it (LOL)! Another a must order is the lionfish ceviche and scallops.
"Nobu Japanese Cuisine" is one of our favorite restaurants regardless of the location! The Nobu Paradise Island was no different than any other Nobu locations! Always consistent with great quality, delicious sushi dishes, salmon, shrimp, spicy tuna, etc.… We enjoyed great offering of wine, appetizers and desserts. Definitely recommend it!
Side Note: Make sure to stop by the famous "Bahamas Rum Cake Factory" on your way either to or from the airport! Their rum cakes literally melt into mouth! Matt could not control himself and bought five of them! LOL!
What to Do: Soak up some sun on the Cove powdery beaches,experience all the water park slides, lazy river, Rapid River, adult pool, kid's pools, water sports, swim with the dolphins, snorkel the ruins, visit the blue lagoon, eat and drink at the Lagoon Bar and Grill and enjoy the breathtaking views, visit the Marina village, enjoy some golf and spa time, watch the sunset on the beach and so much more….
Honestly I can keep going on and on and on about things to do at Atlantis in the Bahamas. There are so many things to do that I think if you want to fully explore every single activity, you need to spend at least 10 days.
For example, I wanted to float on the lazy river as well as the rapid river one full day (LOL)! I wanted to go up and down the shark tank, leap of faith and the challenger water slides another full day.
I wanted to relax and soak up the sun on the pink sand beach of Paradise Island for one full week or longer (hahaha)! So make sure to plan some extra few days in Atlantis resort to cover most of what I listed here!
If you have been to the Atlantis resort of the Bahamas, please share your experience in the comments below!
Love,
Sherry, xoxo