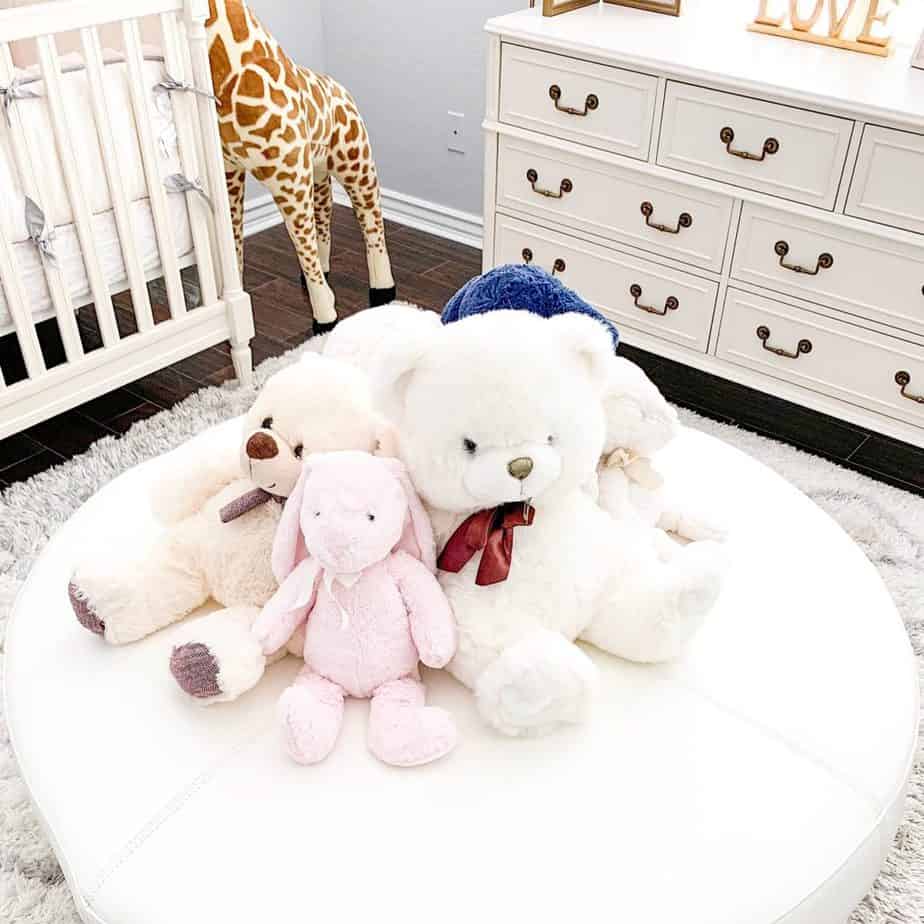 If you are a first time mom, it can be very overwhelming trying to figure out what to buy for your new precious bundle of joy!
I remember when I was pregnant with Valentina (she is now 4), I was so confused on what to put on my registry and what not to…
When she was born, I realized so many items that we purchased (or received as a gift from our registry) were completely waste of money and took a lot of space at our house. As a second time mom, you know exactly what you "must have" and what products are not really needed!
Read more about my count down to baby number two here!
So if you are expecting a brand new baby, here's some lovely ideas on what to put on the baby registry!
12 Baby Registry Must Haves
I'm going to share some of my favorite baby essential here that I registered at Pottery Barn Kids , Amazon Baby Registry and BuyBuy Baby for my second baby, Alina!
1- Kiinde Breastmilk and Bottle Warmer: I honestly don't understand why this bottle warmer doesn't have a 5 star rating on Amazon! We LOVE it! I put the "Kiinde Breastmilk Warmer and Bottle Warmer" in our baby registry with my first baby (Valentina) based on some of our friend's recommendation. It was small, didn't take a lot of space and warmed up the bottle so quickly that we loved it so much! With our second baby (Alina), we decided to try something new. The other milk warmers took FOREVER to warm up the milk. Unfortunately, when your little baby is hungry, you can't handle watching them being so hungry and cry… So we immediately switched our new bottle warmer back to the Kinnde and we are super happy! I highly recommend this product if you are looking for something to warm up the milk so quickly and it also won't make the milk too hot!
2- Tommee Tippee Clear Bottle: Choosing a right bottle can be so tricky! Most babies are very picky about their bottles and that can really affect them in a positive or negative way on their growth. We tried a whole bunch of different brands of bottles when we had our first baby (Valentina). She ended up loving Tommee Tippee the most! The wide mouth makes it very easy to clean because the opening is wider than most bottles out there. They also have several "flow" sizes for different ages, babies can easily hold them, the bottles themselves have held up extremely well.
3- HALO Bassinet: We received this bassinet as a gift when we had our first baby. I fell in love with its modern design! Once we started using it, I loved it even more! Getting in and out of bed (especially right after the delivery) is not the easiest. This bassinet made it so convenient! I loved how you can adjusts it based on the height of your bed. Being able to see my baby in a 360 motion was another great feature! I also love the extra pockets in the sides keep things nice and safe for baby.
4- Infant Optics DXR-8 Video Baby Monitor: We tried few different baby monitors with Valentina (our first baby) until we loved this one that we really loved! Setting up the monitor and camera was very easy. We followed the directions and had no issues at all pairing the camera and monitor. The monitor had a clear picture in day light and more importantly, at night. The monitor always worked great and we could always see our baby when we wanted. The customer service is outstanding so if we ever had any question or problem, we were being taking cared of very professionally! I totally recommend this monitor if you are in the market to buy one!
5- Freshly Picked Diaper Bag Backpack: The first time I saw this diaper bag backpack was on Instagram where one of my favorite/stylish blogger was wearing it and talking about how light weight it was! Before putting it on my registry, I went to buybuy baby and looked at it. She was right! I thought it was pretty light weight and the fact that it's "backpack" makes it so much easier when you are pushing the stroller or holding your baby! It comes in different colors. I loved all the colors and definitely enjoy it!
6- Prince Lionheart Wipe Warmer: We bought this wipe warmer after about two weeks of brining my baby Alina home! Before having this wipe warmer, almost 95% of the time she would pee when we were changing her diaper and make her clothes all wet! Hahaha! It was first funny, but when it was happening a lot, it started being so much work! Because we had to change her clothes after changing each diaper! So my husband (Matt) said why don't we try the wipe warmer and see if she stops to wet her clothes after each diaper change! He was right!!!! It stopped right away! It was definitely the cold wipes that made her pee with every change! LOL! The Prince Lionheart wipe warmer is lovely! It's simple to put together, works perfectly and has a nice little blue light which is a great extra feature especially at nights!
7- 4moms Classic mamaRoo: When I was doing my research about this baby swing, I found out that several hospitals carry this mamaRoo swing at NICU! Several nurses mentioned that when NICU babies cries so much and they can't calm them down, they put them in this mamaRoo swing! That's how we made a decision to buy it! It imitates walking motion as well as other movements such as side to side, up and down, etc…, it plays music, in fact you can sync it to your IPhone and play whatever music is on your phone. It is definitely a lovely swing and a great investment for your new baby!
8- Boon Soak 3-Stage Bathtub: I love this bathtub! Love the look of it! It's not heavy or bulky. It fits in your kitchen sink (if you have the farm sink), or sits easily on the counter or you can put it anywhere in your own shower/bath tub! The silicone butt portion helps your baby stay in place and not slip around much while in the bath which make you feel comfortable washing your new born!
9- Stokke Pipa Car Seat: Since we got the Stokke stroller for Valentina and loved it so much, we thought we would like the Stokke car seat too! We sure love this well-made car seat just as much as we love the stroller! If you are a fan of Stokke products (which I am), you will love this car seat!
10- Stokke Xplory Stroller: Stokke stroller might be a little too expensive to put it on your baby registry!! Hahaha! But sometimes the grand parents want to buy something very special for their grandbabies! So if your parents are one of them, then definitely consider adding this beautiful stroller to your registry! When we had Valentina (4 years ago), we had a different brand of stroller! Until I saw a Stokke stroller at a lovely baby boutique! I fell in love with how smooth the wheels were moving and how tall the stroller was! So I could easily see my baby and my baby could easily see around her! Although we already had one stroller, but I really wanted that Stokke one too! So we ended up buying it and loving it for so long! After using it for 3 years, it still looks brand new! So we are still using it for our second baby girl, Alina! I love everything about this stylish Stokke Xplory stroller! In the beginning you may find it a little hard to work with, but it's really not hard! Once you know how it works, it's super easy and runs very smoothly!
11- Graco Pack 'n Play: This Pack n' Play will grow with your baby! At least that was the case for us with our baby girl, Valentina! The changing pad is quite nice because it can be wiped down easily. The other thing I love about this pack n' play is it's very easy to carry it around or take it outside of your house or trips if you want to! Once Valentina grew out of the "new born" stage, she loved playing inside this pack n' play!
12- Blythe Convertible Crib: If you are looking for a high quality crib, you don't need to look anywhere expect for Pottery Barn Kids! We bought a different crib for our first baby Valentina, after being in her crib for about 6 months, we decided to change up her room's colors and wanted to make it all white! So we donated her old crib and got this crib from Pottery Barn Kids! Although her crib is white and had white fabric panels on the sides but it really doesn't get dirty as easy as we thought! Valentina climbed in and out of her crib so many times, jumped a billion times in there and did so much more in there… but this crib still looked brand new!!! That's why we decided to pass it to our second baby girl as it looked brand new! That's one of the reasons that I love and adore Pottery Barn Kids furniture! They are definitely high quality! If you are planning to have more than one child and want to pass the crib to your next child (in the perfect condition), Pottery Barn kids cribs are truly incredible!