If you are a Dior lipstick fan like me, you will love this post! In this post, I'm sharing the best Dior lipstick for every skin tone. There are so many AMAZING lipstick brands in the beauty market. However, when it comes to lipstick, Dior has an amazing range of shades that work well for many different skin types and tones!
This post is about the best Dior lipstick and its amazing shades that you MUST try!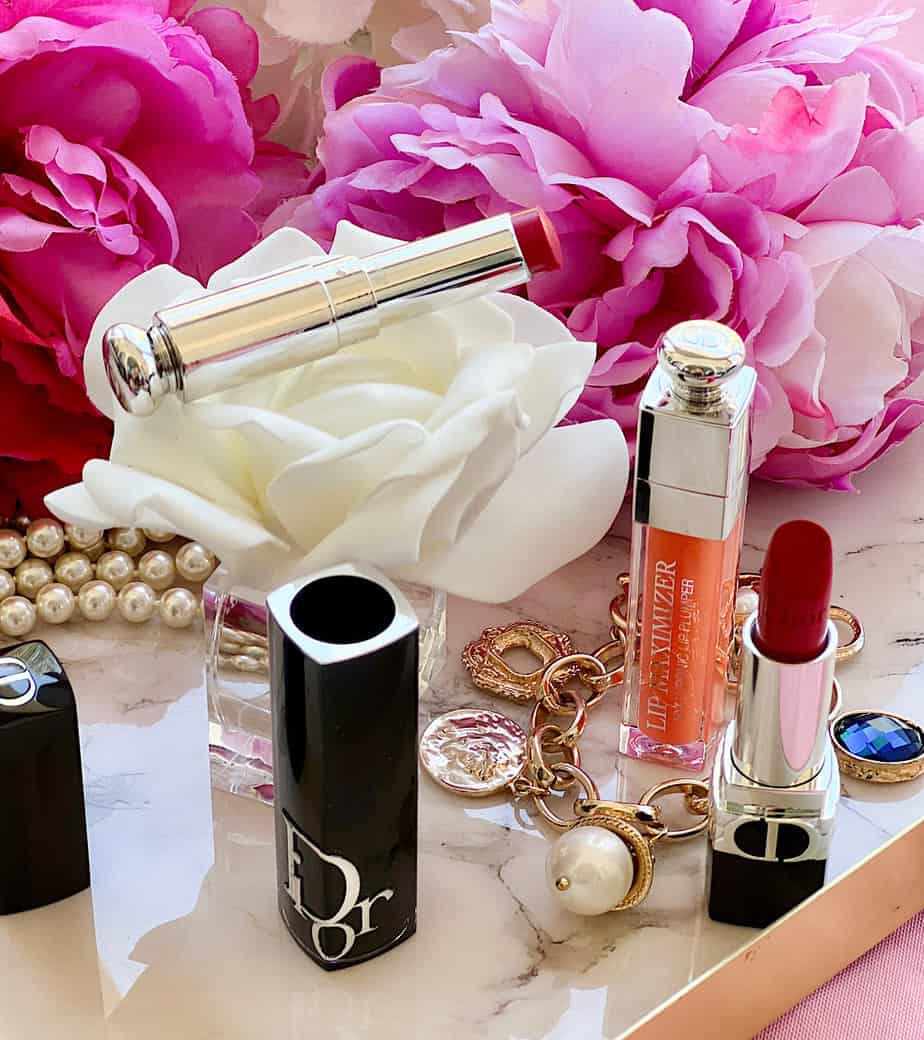 Whether you love to rock a red lipstick, or you are looking for something to suit your skin tone, or if you need to know the best long-lasting lipstick from Dior makeup collection, then keep reading! I'm going to share with you some of my top Dior lipsticks that can compliment everyone.
Best Dior Red Lipstick
One of my favorite classic colors of lipstick is a red lip. When it comes to red lipsticks there are a lot of different tones and finishes of red lipsticks. Dior has a ton of different types of red lipsticks that are great to add to your beauty routine to spice up your look.
One of the most classic red lipsticks is the Dior 999 Lipstick, which is your classic fiery red color. It's the perfect shade of red and it suits many different skin tones and is also one of my favorites. The Rouge Lipstick #999 Matte is the same color, but it is in a matte formula for those of you who love a matte lip.
If you're looking for a red lipstick that isn't as bright red and is a bit more toned down, then the Dior Rouge #872 Victoire is a great choice. I usually like this shade for daytime and the #999 Matte for the evening, dinner plans, or parties.
If you want something a bit brighter when it comes to red lipstick, then the Rouge Dior Lipstick #080 Red Smile will be perfect for you. Both of them are suitable for all skin tones and overall will bring some color into your look!
Related Post: How Do You Use Embryolisse Moisturizer

Best Dior Lipstick for Olive Skin
Finding a great colored lipstick based on your skin tone can be a little difficult, but Dior offers so many amazing shades for each skin tone! Olive skin tones are super easy to work with because they have a combination of both neutral and warm undertones, which makes their skin tone go perfectly with almost all lipstick colors.
With that being said, I have a few lipstick shades from Dior that I know will go perfectly with olive skin tone if you're having trouble finding something to fit you! First off, a red shade is perfect with olive skin tone so the Dior 999 lipstick or the Dior Rouge #872 Victoire will look great. If you're looking for more of a nude shade then almost any Dior nude lipstick will work, but Dior #100 Nude Look and Dior #314 Grand Bal are some of my favorites.

Best Dior Lipstick for Asian Skin
Asian skin tones look great with reds, pale pinks, and nude shades. Really, Asian skin tones work with pretty much every shade so you can't go wrong with any of them.
There are a lot of shades that are compatible with Asian skin tones in the Dior Addict lipstick line and the Dior Addict Lip Gloss line. You really can't go wrong with the Dior 999 lipstick, because it's literally the most perfect red shade for anyone!
The Refillable Lipstick in #277 and Dior Rosy Nude are also great choices for a light pink option, which is always a good choice for Asian skin tones. The Dior Rouge #964 Ambitious is a great staple color that will go with many different looks, so it's definitely a must-have for anyone with an Asian skin tone!

Best Dior Lipstick for Pale Skin
Pale skin is great for rocking nude shades or bright shades and as always, a classic red. Rouge Dior #760 Favorite Velvet a great bright red shade that looks awesome on pale skin and it's great for the summertime! Dior #724 Deep Beige Nude is another bright-colored lipstick that's perfect for pale skin and can be a great pop to your beauty look. The Dior Rouge Lipstick #872 Victoire is a great satin red shade for anyone with pale skin if you're looking for the PERFECT red shade!

The Dior #339 Greg/ Satin is a perfect peachy nude for pale skin also if you're looking for something a bit more subtle. Lighter nudes are great paired with pale skin, plus you can choose from neutral, peaky, or pink nude shades. Adding the Dior Addict Lip Maximizer Serum on top of your nude lipstick can bring a bit of shine and dimension to the look.
Related Post: Best Beauty Products You Need to Try This Summer!

Best Dior Lipstick for Dark Skin
Dark skin looks great with so many different lipstick colors so there is a lot to choose from. Reds, browns, plums, and bright colors are great against darker skin tones. Red lipstick is a great choice if you have dark skin because it contrasts in the most perfect way.
The Rouge Dior Lipstick #999 Matte is a classic red color that pops against dark skin tones. A good brown nude shade is perfect if you don't want something with too much color. The Rouge Dior Lipstick #400 and #300 are great brown nude shades. For a bright pink, #792 Lady Dior is the perfect choice for a bright pop of color!

If you're looking for something just to give a bit of shine to your lips without any color, then the Dior Addict Lip Maximizer Serum will be perfect for you as it's a clear serum/gloss that also plumps your lips.

You can put the Dior Addict Lip Maximizer Serum on top of any Dior Rouge Dior Refillable Lip Gloss to have a perfect duo lip combination. However, if you're looking for something dark and mysterious to go against dark skin tones then the Dior #886 Enigmatic is a great option as it's a darker shade with a bit of brown and purple hues making it look gorgeous against dark skin!
Best Matte Lipstick
Dior has a ton of different shades and finishes of lipsticks, but one of my favorites will always be classic matte lipstick. Matte finishes on lipsticks look so clean and bold which I LOVE! I remember when matte lipsticks first got popular and now it seems like everyone wears them.
The two main lines of lipsticks that offer mattes are the Rouge Dior Forever Liquid Lipsticks and the Rouge Dior Refillable Lipstick. As usual, the Rouge Dior Lipstick #999 Matte Liquid Lipstick is a great choice for a classic bright red color that looks great on everyone. Burgundy shades are my favorite type of dark lipstick to wear, and Dior has a great matte option which is the Rouge Liquid Lipstick #943 Forever Shock.

If you're looking for a nude, then the Dior Rouge Liquid lipstick in #100 Forever Nude is the perfect pinky nude shade. Rouge Refillable Lipstick in #884 Celebre is a great brown-red color if you're looking for something a bit darker with a brown hue to it. Lastly, my favorite bright pink option is Rouge Lipstick #775 Darling. I think that covers almost every category if you're looking for matte lipstick!
Best Long-Lasting Dior Lipstick
My favorite long-lasting lipstick from Dior is anything within their Rouge Dior Forever Lipstick line. They are transfer-proof, and matte, plus they have a ton of different shades. The infamous Dior 999 lipstick is part of this line and many others that I love.
I find that every lipstick in this line stays on very well with no touching up! One of my favorite everyday shades is #558 Forever Grace as it's a nice rosy color that isn't too bright, but also not too nude.
The Rouge Dior Forever Lipstick in #943 Forever Shock is my favorite dark long-lasting lipstick and it's a great choice for nighttime wear. The Dior lipstick #626 Forever Famous is also a favorite of mine and it goes with literally everything making it super easy to wear! Basically, you will be safe choosing any shade from the Rouge Dior Forever Matter Transfer Proof Liquid Lipsticks!

Best Selling Lipstick
One of the best ways to figure out what to buy or if you should buy something is to see what other people are buying. I'm going to share some of the best-selling Dior lipsticks out there to help give you a place to start. The most popular line from Dior is the Rouge Dior Refillable Lipstick which features popular shades such as Dior #999 Matte and Dior#300 Nude Style Velvet.
The Dior Addict line is very popular and it's great as they have the Dior Addict Refillable Shine Lipstick which has a shiny finish to it and the line offers many different shades. Some of the most popular shades are #100 Nude Look, #720 Icone, and #716 Dior Cannage.
Lastly, the Rouge Forever Liquid Transfer Proof Liquid Lipstick line is another super popular line with one of the most popular lipsticks being the Dior 999 lipstick. Other popular shades are #100 Forever Nude and #760 Forever Glam.
The Bottom Line
Dior lipsticks are known for their high-quality and luxurious feel. The brand offers a wide range of shades to suit any mood or occasion. Whether you're looking for a nude lipstick to wear every day or something bolder for a night out, Dior has something for you! That is why I LOVE their lipsticks!
So, what are my thoughts on the best Dior lipstick shades to try? Well, there are a ton of shades, but these are a great place to start. My three favorite lipstick lines from Dior are the Rouge Dior Forever Liquid Transfer Proof Lipsticks, Rouge Dior Refillable Lipsticks, and the Rouge Dior Refillane Shine Lipsticks.
Within all of these, there are tons of shades that you can wear out with your friends, on a date, in the summertime, for a casual event, or on a night out. I love Dior lipsticks and I know you all will too, especially after trying some of my favorite shades and the most popular shades! Make sure to read this guide on Vogue France about the best-selling lipsticks in the world. And do not forget to check out all the incredible Dior best-seller beauty products on their website!
This post may contain affiliate links, which means that I may receive a commission if you make a purchase using these links.
Shop The Post or Similar

Sherry, xoxo